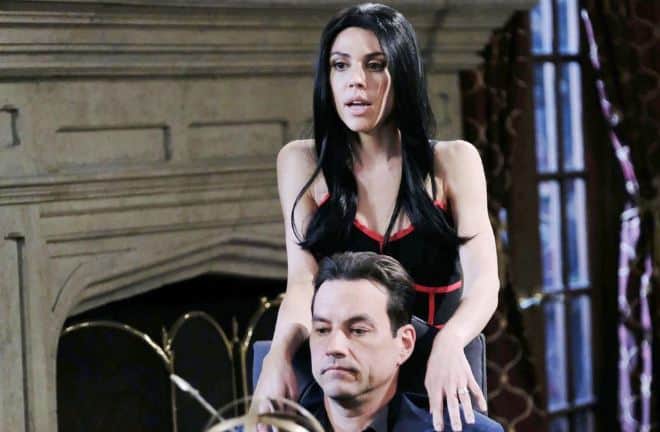 Days of Our Lives fans know that the past week was a mess. It was a week when everyone and everything basically fell apart for everyone. Right now, Abby is working her way out of her situation. She needed to find a way out of Bayview, and she did. She got Stefan to think she was Gabby again, and he found a way out for her. Things are turning around for her, and we predict she's going to lose it when she finds out that her baby is Chad's and that Gabi orchestrated all of this to ensure she was able to get her own way. She's going to work hard to take down Gabi after all of this, and it's going to turn into a never-ending cycle of angry. These two are not going to have much good in their futures if they keep this up. They have to focus on the good in their lives, but we don't think they can do it. There's too much going on in their lives for that.
Lucas was not nice to Chloe when he came back. He told her he would not be back for good, and she's completely crushed by that. There's not much that they can do other than move on from one another, but what's left to do otherwise? We don't know if there is much that will work for them, but that's not all. It turns out that Eric wants to raise Holly. He was going to raise her with the woman of his dreams, but that did not work out for him when she died. But he seems to be growing close to Sarah, and she seems to understand that this is his dream and what he wants from life. He wants to be with this baby, and she seems good with that.
What's Happening on Days of Our Lives
.@GillesMarini reveals his character's weakness. Plus, @ericmartsolf and @RealNadiaB take us on a set tour! Listen to the full podcast now on https://t.co/5puWd28reS & the NBC app: https://t.co/G1aBQxE7TS pic.twitter.com/sjqR87u33U

— Days of our Lives (@nbcdays) December 8, 2018
We do love it when stars get together and make it obvious that they are going to answer their questions and make it easy for us to get to know them. We love that, we appreciate that, and we love that everyone is aware of all of it.
What's Next on Days of Our Lives
This holiday season, the people of Salem aren't just getting even, they're getting ugly. Watch #DAYS, weekdays on NBC. pic.twitter.com/90qBX5gBZP

— Days of our Lives (@nbcdays) December 7, 2018
This is a new week, and that often means that many people have some other choices to make in their lives. They need to focus on what is good, what is happening that they can focus on, and what is in need of change. It seems that this week is all about Gabi and Abigail. They are in the midst of an ugly game of who did what and who will win this game. They are not in a good place, and we cannot see them ever coming back from this and what they've done to one another. They are a mess, and they are more than a little upset with one another. They've done such horrible things to one another that we cannot even handle what they are doing. They are not in a good place, and one of them is going to end up in a place they cannot come back from.
There is nothing that Gabi wants more than to see Abby lose it all in her life, but Abby is not about to let that happen. She's unhappy with the way things are going, sure, but she's also upset that this is her life. She's doing anything and everything she can to change the way things are going. She's using this to her advantage, and she's going to make sure that she can take Gabi down so far that she cannot come back from the mess that she's created in her own life all because of her own anger and resentment toward Abigail's uncontrollable alter ego.
Stay tuned for more Days of Our Lives and be sure to check out TVOvermind daily for the latest Days of Our Lives spoilers, news, and updates.