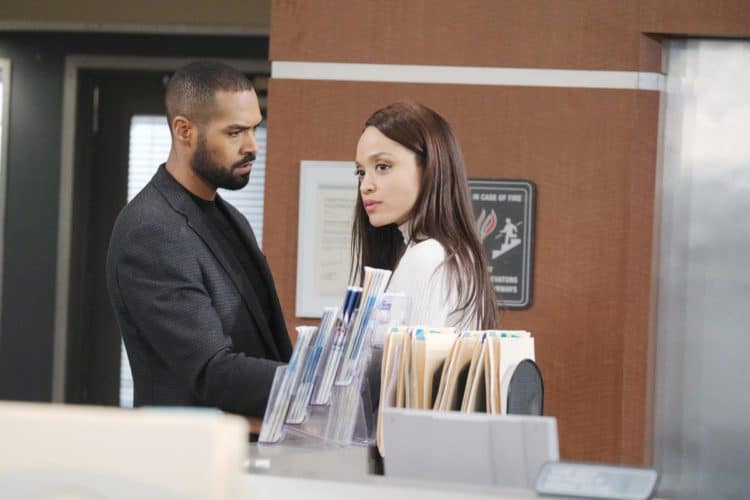 Days of Our Lives fans know there are more things to this story than we might imagine, and that doesn't make it any less interesting. For one, we are going to see some things come out regarding the story of Xander and his desire to find Rolf for help. He's a man we can tell is clearly on the brink of making some positive and longterm changes in his life, which is why we are all so unhappy that he seems to want to get Rolf involved in this situation. There's nothing good that will come of it, after all, and there is nothing we can do to stop him. He want to keep Sarah in town, and he can only do that by managing to convince her that it is for the best that she stays. We aren't sure Rolf is the person to provide this for her in the least, though.
Then there is more happening with Anna, as she is blindsided by Tony. We feel as if we've been saying that a lot lately, and we just don't know that it's going well. We know that there are so many things that might go down here, but he continues to surprise her moment after moment. She's not someone who can handle what he has in mind for her every single time he opens the proverbial door to their situation, but it does work for us. Then, there is also a chance that we can see things unfold for Gabi. She's said her goodbyes and her husband is now gone, but will he be back? There seems to be more here than meets the eye, and we'd like to keep that option open. We feel this was a great relationship for her, and we want more of them.
What's Happening on Days of Our Lives
In the latest #DAYS, Gabi is devastated when she learns of Stefan's prognosis.https://t.co/ZsCmioRrzb pic.twitter.com/3yq1P9jJeO

— Days of our Lives (@nbcdays) October 8, 2019
And it did not get better.
What's Next on Days of Our Lives
Marlena drops by unexpectedly and catches Eric and Nicole in an intimate moment. Watch Days of our Lives, weekdays on NBC. pic.twitter.com/R4PKlOtfqC

— Days of our Lives (@nbcdays) October 11, 2019
Days fans are not only excited about this week, but about what is going to happen in the near future. we know that there is a lot going on, and it's not that easy to take it all in. Right now, we can count on Nicole learning a secret about something and someone that might change the way she lives her life. What might this be, and how much danger or unhappiness is this going to bring to her life? She's only just gotten her life back, you know, and this is not going to end well for her if she's not able to focus on things that are good. But, that's not all. We know that Gabi is making her mind up about the heart of her husband, and she's giving it to Julie. She's not going to learn this just yet, but we will see Gabi make the decision and change her mind about things in her life.
On the flip side, the big time jump is coming up soon. There will be a lot we don't know, a lot we don't see coming, and a lot of changes. What changes will those be? We don't know. We aren't sure what the point is, why this is happening, or who it will affect the most. We can see that it might be a big change to wake up one morning and realize a year is gone, but what will change so much in that fake year? We are a little worried, but we will get some answers soon.
Stay tuned for more Days of Our Lives and be sure to check out TVOvermind daily for the latest Days of Our Lives spoilers, news, and updates.