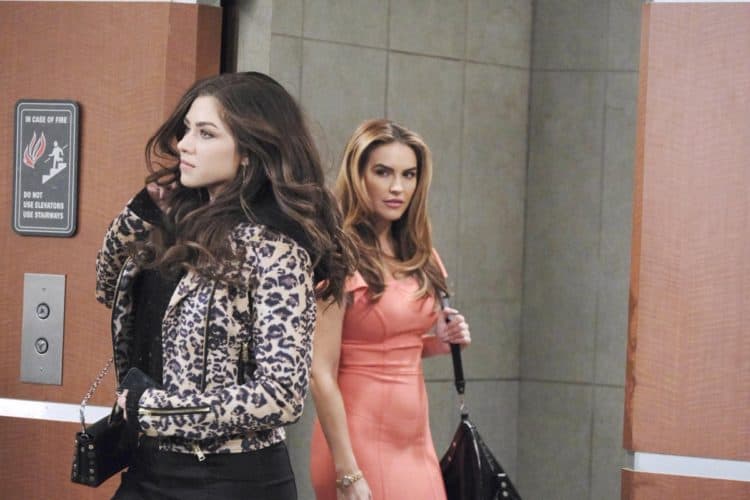 Days of Our Lives fans know that the past week was a rough one for so many people, but that doesn't mean this week has to be. It will be, of course, and we all know that. Nothing ever goes as it's planned around here, and that's not like a big surprise to anyone. But, for now, we also know there are so many people who like to deal with things their own way. Doug and his family had to do things they didn't want to do in saying goodbye to Julie. Her life is over now that she hasn't a heart, and Gabi is not giving up. She can't do it, and that's all there is to it. She's got a lot on her plate, and she's not living her very best life right now. But, for this moment in time, she's living out what she considers her very worst nightmare.
On the flip side of things, she's got to get it together. She desperately wants to see if she can get to Rolf so that he can save Stefan. She doesn't want him to die, but she also lashed out hard at Lani for allowing this to happen. Meanwhile, she's not going to be okay with any of this in her life. Xander, on the other hand, is dealing with Sarah and her life. She's ready to leave town and move on with her life, but he cannot stand the thought of that. She's not going to be okay with that, and there's nothing going to keep her here if Xander cannot figure things out. She doesn't want to get in the way of Nicole and Eric and their love for one another after all they went through, and this baby is not going to help matters at all.
What's Happening on Days of Our Lives
ICYMI: Bill Hayes stops by Inside Salem to talk about his relationship with on and off-screen wife Susan Seaforth Hayes (@DaysHayes). After, @Bryan_Dattilo and @laurenkoslow take us behind the scenes!

Don't miss the latest episode of Inside Salem! https://t.co/9vlZu6fkQB pic.twitter.com/9XiqoEMFPb

— Days of our Lives (@nbcdays) October 7, 2019
We love them so much.
What's Next on Days of Our Lives
Distraught over losing Stefan, Gabi will only give his heart to Julie's loved ones if they beg for it. Watch #DAYS, weekdays on @NBC. pic.twitter.com/O6vija5ekn

— Days of our Lives (@nbcdays) October 4, 2019
Xander has to do something to keep this woman he loves in town, and he has to reach out to Rolf to see if he can help. We know this is not a good idea. Rolf is awful. He might be a magical doctor who can do things that no one else can do, but he's still an awful person who does awful things and makes awful choices and doesn't make anything work well in the long run, but he is who he is. And that's not good news for us as Xander reaches out to him. We hope that Sarah never finds out that they are working together like this. Anna, on the other hand, is about to end up blindsided, and the person blindsiding her is Tony. She's not expecting this. She's not happy with this, and she's not going to do well handling any of this.
Of course, we also know that this week is a sad one for us and for Gabi. It's time for all of us to say goodbye to Stefan. He's gone. Rolf cannot — or will not — save him. He is dead, and he is not going to come back. We do, however, want to take a moment to interject in here and talk about a rumor we heard, which is that the actor playing the role of Stefan is not going to end up gone forever. He's been back on the set filming things that we think will be big-time situations, and we are so excited about it. We don't know for certain if there is any truth to him coming back for good or if he is simply doing little work, but we wanted to share.
Stay tuned for more Days of Our Lives and be sure to check out TVOvermind daily for the latest Days of Our Lives spoilers, news, and updates.