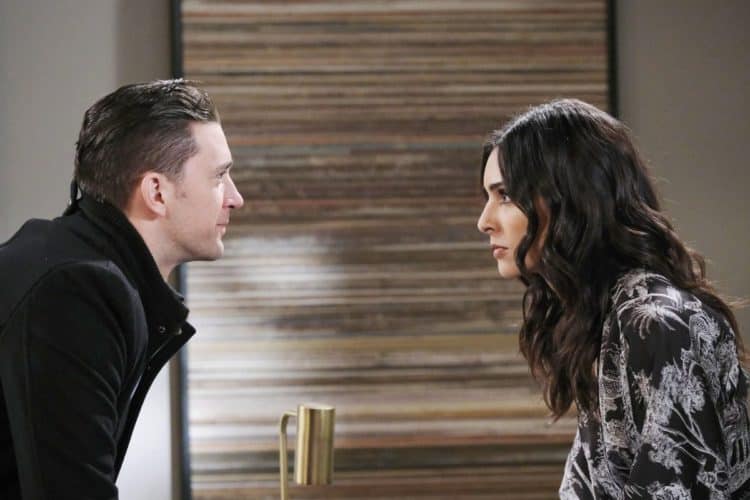 Days of Our Lives fans were not shocked – at all – when Abigail decided to bring her mother back to the place where she was pushed and fell to her great injury. She wants her mother to try and remember what happened that day, but she's not there yet. She knows that it wasn't Eve who did this, but we still cannot figure out why she is so quick to want to deal with this being part of her life. Why is she suddenly so excited about this and so ready to believe someone like Eve? Someone who had the motive and the desire to hurt this woman following that she perceived was such a terrible thing that Jennifer did to her? We cannot figure this out, but we know she will not stop until she figures it out for herself. On that note, we also know that there is a lot more going on that we cannot figure out, either. For instance, we can tell that JJ is not going to rest.
He has confronted Kristin. He will not stop until he finds out what happened to Haley, and he is sure she knows what went down the day that she died. Chad is not in a good place with Kate right now as he is forced to admit to her that he knows where his father is, that he has been in contact with his father, and that things are not going to change from this point forward. Furthermore, Lani is beyond shocked to learn that Eli has moved on from her and their wedding that did not happen a year ago and has decided to enter into a relationship with none other than Gabi. She's not even sure what is going on in her life right now, and we get it.
What's Happening on Days of Our Lives
In the latest #DAYS, "Hope" offers resistance when Abigail asks to look into Jennifer's case.https://t.co/ZsCmioRrzb pic.twitter.com/aEf1H6pJW7

— Days of our Lives (@nbcdays) December 7, 2019
How does no one see this mess?
What's Next on Days of Our Lives
Eli discovers Lani is a nun, while JJ goes after Kristen. Watch #DAYS, weekdays on @NBC. pic.twitter.com/i73wZEinte

— Days of our Lives (@nbcdays) December 7, 2019
Lani is not in a good place. She's only just learned that the man she was set to marry last year but walked out on during their wedding to spare him his life and all the people she loved their lives is now dating the woman who did all of this to them. There is nothing that makes her happy about finding out that the man she loves so much and did this to protect is now dating the woman who put them in this situation to begin with. She's crushed and unhappy and upset and not living her very best life right now, and we get that. But, she's also dealing with JJ, a man whom she also dated at one point. He's there with her trying to kill Kristin because of Haley, and she's begging him to spare her life and let this go. She's not sure he will listen to her, though, and we all know he's been using drugs heavily lately.
Then there is Gabi, who is not happy and is trying to make sure that Chad is thrown out of the house. She's not having a second of whatever is going on with him and with his life, and this is going to become quite the situation for everyone involved in all of this. There's not much we can do other than sit here and wonder ourselves if things will improve, but we also know that this is the day in which we will also learn about Kate's secret being let out of the bag.
Stay tuned for more Days of Our Lives and be sure to check out TVOvermind daily for the latest Days of Our Lives spoilers, news, and updates.