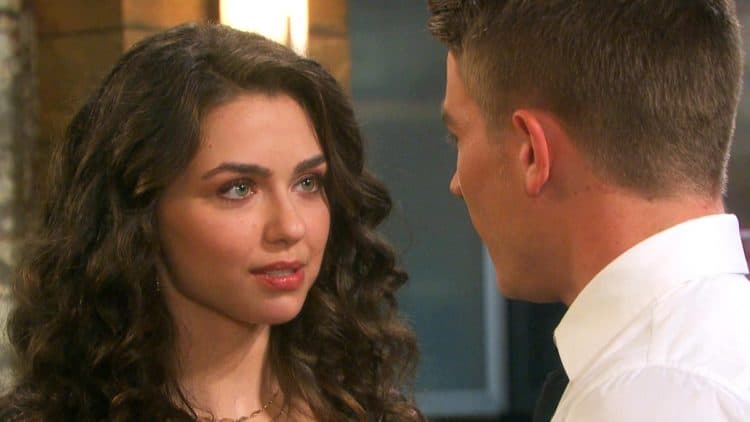 Days of Our Lives fans know that things are taking a huge turn this week. We know that it's too late for John and Marlena. They've come to the realization that Claire tricked them, but it's too late now. She's been a busy girl this week. She has asked for forgiveness from Ciara, and she's given her and Ben some information that might be very important to their cause. Meanwhile, Jake is not in a good place with Eli and Lani as they question him about what he knows and where Gabi is. He knows she's missing, and they think he knows a lot more than that, but he doesn't seem too interested in being all that honest with her at the moment. There is a lot going on there, and it's not making much of a change in their lives. It's going to go down in a way that cannot be good news.
Then there is Gabi. She's been kidnapped, and she is not sure she's going to be all right. She's afraid that her time is almost up and that she cannot handle what is happening next. She is currently a mess, and we don't know what else to do with that. She is going to need someone to hurry up and find her, but will they? Will they find her? Claire is not someone who is going to make anyone's lives easier right now, but we don't know what is going to happen now that she's put her mind into this task and worked so hard to make it all happen. She's got so much to work with, but not much to go on, and they aren't sure what to think of her. It's hard for her to figure out what they are really thinking right now.
What's Happening on Days of Our Lives
I've arrived. https://t.co/l97IbRGdik

— Eric Martsolf (@ericmartsolf) June 12, 2020
You know it. When you're a GIF, you know that you finally reached the ultimate life point.
What's Next on Days of Our Lives
It's a summer of love in Salem, with weddings for four couples and a baby for Will and Sonny. Watch #DAYS, weekdays on @NBC. pic.twitter.com/5Z6YPVoRN7

— Days of our Lives (@nbcdays) May 29, 2020
Ben and Marlena are working together right now. Claire has given them some information that they can use, and they are worried. They have to find Gwen, but will they? Will they find her in here, or will she not be there like they were told she would? And, if they do find her, will she give them the answers that they need to figure this all out right now? We cannot be sure in the moment, but we are hopeful that there is a bit of something going on right now that might just help them figure this out. Ciara has to come up with a plan that will help Jake. For whatever reason, she's decided that they will help this kid even though he's making a mess of everything.
She's got a plan, and she's going to figure out how to enact that plan so that things work out and they are all in a good place with one another. It might work, but we aren't so sure that it will be one of those foolproof plans that takes them into a good place. Gabi is going to try and save her own life, but this not going to go well, either. She's a mess, and things are not going to end well for her if anyone finds her doing this. Jennifer and Jack have to stop worrying. They decide that they need a night of romance, and they work hard to make sure that one happens for them. This could go well, or this could go very badly for them. Either way, it's going to be a situation we cannot wait to see.
Stay tuned for more Days of Our Lives and be sure to check out TVOvermind daily for the latest Days of Our Lives spoilers, news, and updates.