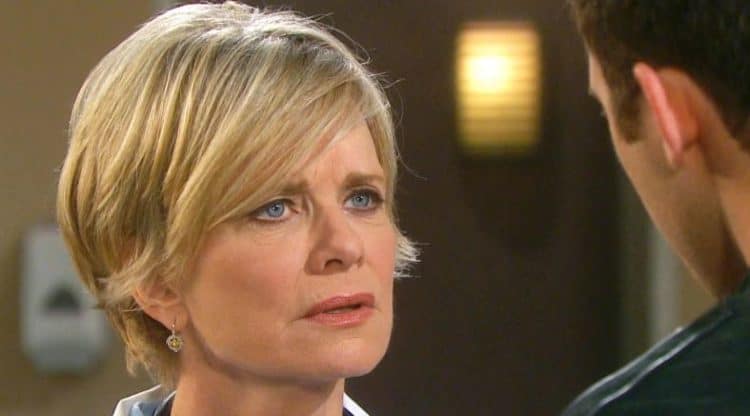 Days of Our Lives fans aren't thrilled about all that Gabi has done to Abigail. We get that she's mad at her for framing her for murdering Andre, but that was not really Abby. That was her horrible personality that took over and did a lot of really questionable and shady things. It wasn't pretty when it happened, and it's not pretty now. We don't really have much to say other than that it was all kinds of disgusting and upsetting, but that's not really anything that we should focus on now. What Gabi did to her was gross, and watching her sit back and gleefully tell her that she did all that was the worst of the worst. We hated every moment of that one, and there is nothing we can do about it. We can't handle the way that all went down, but it's fine.
This time around, we are just sitting down watching as things go poorly for Abby. Gabi will need to face some consequences for her actions, but will she? We hope that she does, but we don't know that she will at this point. She's just enjoying the harm and the pain she caused to this woman, and it's been ugly. And then there is Ben. He's managed to expose what Tripp has been up to with Claire to Ciara, but will that all work for him? Will he be able to get her to see that he loves her and that they belong together, or will this all become something else entirely? Will there be something that works for him, or will she not want to get involved again after being hurt – a second time – by Tripp and Claire? And can Ben prove to her that despite his reputation, he won't do that to her?
What's Happening on Days of Our Lives
Working with Missy! Thankful! Happy Thanksgiving everyone! pic.twitter.com/QIj7NW9mo2

— Matthew Ashford (@matthew_ashford) November 15, 2018
We love it when people get all kinds of excited about working with their fans. They have a good time with it, and it's one of those things that might not mean so much to other people, but it does mean so much to us. We love to see people work well together and enjoy their time at work.
What's Next on Days of Our Lives
It's Thanksgiving in Salem, and Gabi drops a bombshell on Abigail. Watch #DAYS, weekdays on NBC. pic.twitter.com/7mPQhFiIay

— Days of our Lives (@nbcdays) November 16, 2018
Days fans are excited to see that today brings about big changes for Abigail. No, her life is not about to change for the better because Gabi is being punished or anything like that, but we do have some news that might work for you and for those around here. She's going to change a bit. Today is the day that Marci Miller is going to leave her role behind and it will be taken back over by Kate Mansi. She was Abby for many years, but this is the one thing that will make people feel good about so many things. It's a big cast change, but it's not like anyone will talk about it, of course. We just sit back and wonder what's going on in the meantime.
And then there is the moment when Paul leaves. He will share an emotional goodbye with everyone he loves as he takes himself out of the equation entirely. He's leaving, and he's going to share his goodbye with Victor and Brady, and it will be very emotional. Of course, he will be escorted out of town, so there is always a chance he might come back in the future and perhaps live with the people he loves again, but we don't know that for certain in any capacity. It will be a sad moment, but not nearly as shocking as what Valerie is going to share with Abe – sit back, because the news she shares with him will shock him into next week, and you don't want to miss that.
Stay tuned for more Days of Our Lives and be sure to check out TVOvermind daily for the latest Days of Our Lives spoilers, news, and updates.