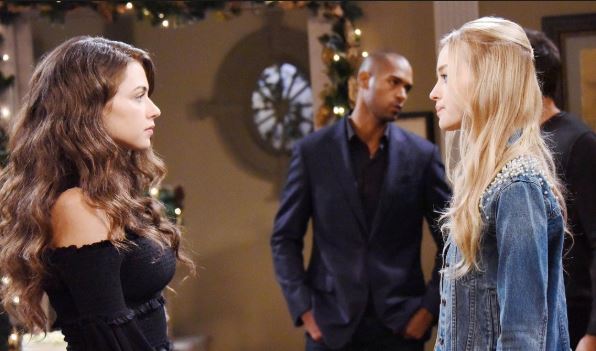 Days of Our Lives fans are all kinds of excited that today is a new year and that there are so many new things to look forward to. It's weird how we all get so excited about a day in which the date changes – just like every other day – and yet we all work to change our lives, make better changes in the things we do, and we work so hard to make things right in our own lives. We have so much to look forward to this year, and we can't wait to see what happens to live in Salem when the people who live here have so much more to look forward to. Will they find a way to make their lives look good again, or will they find a way to make sure they don't have much to look forward to? We think that there will be some big changes, and we are making a few new year predictions as to what might happen.
A Family Torn
We know Jack is back, and we think that this might change the entire world. This is everything we have been looking for for Jennifer and her family. Jennifer has had a rough go of things lately, and we cannot wait to see if she can make this work for herself. She's been in a place that doesn't always work for her, but that doesn't always make her feel like the best person, either. She's been in a place where she's been able to get her life together in some ways, but she's never found real love since losing him. His kids have been through so much since he's been gone, and their own lives have been a tragic situation for many years. And that makes us want to know what will change? Will they find things working better for them? Will they make things seem better in the long run?
Will they find a way to make him part of the family again despite the fact that he has no idea who he is? Will he ever find out who he is and what his life was? Or will this tear apart his already so very fragile family and all that they have worked for and done in their own lives?
More Memory Issues
We also think that there will be some more memory issues going on around here, too. There will be some that don't work, some that do work, and some that don't really make much of a difference to those around them. There will be a moment when we find out that there could be more people we thought were dead were actually victims whose memories have been totally erased and changed, and we cannot help but wonder what is going on with them? What might change, and what will this mean to all of us? What can we even do in the moment, and how many more will show up?
Major Life Changes
We think that there will be some major life changes for some people in the near future. For one, we don't know that there will be much else that Gabi can do in her life, but she has to work hard to make people want to be her friend again if they will. And then there is Abby and Chad and their marriage and their newly bigger family. Will they make things work? Will they get this to work out for them, and will they make it their goal to love one another in a way that works out a little better for them? Will they make their lives better with one another? Will Eric get this baby to raise, and will Sarah be a part of his life? Will there be anything else for John and Marlena to look forward to, or will their lives continue to hedge around her big secret? Will Hope and Rafe make it work? And will Ciara really end up with Ben, and what will her mother do about that if it is the truth? We have no idea, but we are looking forward to it – might be a big year for some, and a tragic one for others.