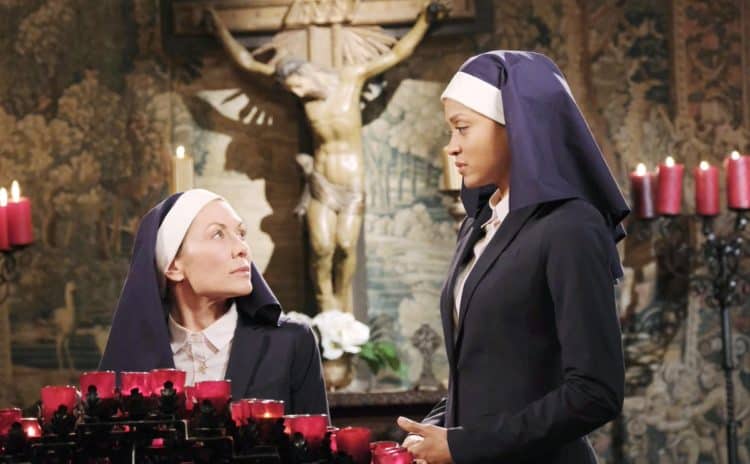 Days of Our Lives fans are not nearly as surprised as Marlena that she has a secret admirer. We all love her and think of her as a fabulous woman, but we also know that this is a bit of a coincidence in the moment. Princess Gina is doing all she can in life to take over the man she wants to be with, which is John. She wants him, she's not taking no for an answer, and she's not going to do anything in her life that is not focused on getting him to come to her and be with her. This makes us wonder if she is behind this so that she can make things work in her favor. We don't doubt it or feel that she is not the type who will do this for anyone other than herself. It might not work, but she's going to give it a try.
Then there is the fact that Eve is in prison. She's claiming to Abigail she did not do this, that she is not the guilty party and that she is not going to allow anyone to focus on anything other than her being innocent and being the one who is going to get out and go free. For now, though, she's here and she's with Hattie. And we all know that Hattie is a very special version of crazy on her own, so this should be one of the most fascinating situations we can see. We don't know if there is anything that we can wait more for than to see the two of them together in a prison cell looking for things to feel thankful and grateful for. This makes us feel very amazing about so many things, and we are just here for it. We are here for it.
What's Happening on Days of Our Lives
Days of Our Lives Star Jay Johnson Returning as Philip Kiriakis in New Digital Series https://t.co/xiPMxBbnzF

— People (@people) November 25, 2019
We love him.
What's Next on Days of Our Lives
Eric learns the truth about Sarah's baby, and Chad pays a visit to a shadowy figure – could it be that the Phoenix has risen again? Watch #DAYS, weekdays on @nbc. pic.twitter.com/Jeo4SSVRGO

— Days of our Lives (@nbcdays) November 23, 2019
There is not going to be a new episode of Days today. It's a holiday that means you should all be with the people you love the most, eating too much, drinking too much (But driving safely and sober) and spending the day watching football and talking about the things you've been up to with your family and the people you love the most. It's a holiday, spend it doing wonderful things. The people of Salem will be back on Monday to spend some time with you doing things that they do best, which is making a mess of their lives. You won't get any more answers about the time jump just now, so stop thinking about it. Put it out of your mind. Get your life together, make some bigger and better decisions, and do all you can to make sure you are focused on things that are meaningful and good in your lives.
Happy Thanksgiving from us to you. Be thankful. Don't sweat the fact that there is nothing yet to wonder about with the missing baby that Ciara is trying to save, the fact that Xander is keeping more secrets, that Jennifer got bad news, and that Eve really thinks for a second that anyone is going to feel that she did not do this, that she is innocent, or that they want to take her side. Just move on from that, and don't forget that there will not be a showing for this tomorrow, either. It is just not happening.
Stay tuned for more Days of Our Lives and be sure to check out TVOvermind daily for the latest Days of Our Lives spoilers, news, and updates.