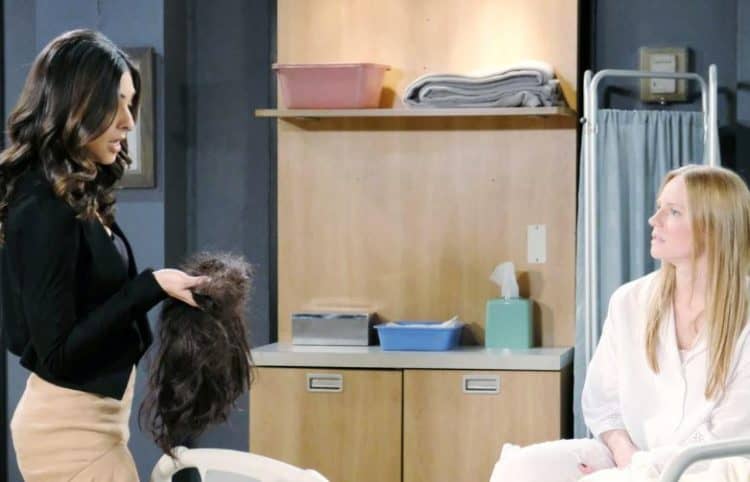 Days of Our Lives fans are always upset when someone leaves the show, but there is not much we can do about things like that when someone decides to leave. There is, however, a good chance that some things will work out in a way that will always make us happy. Paul is gone, but Sonny is back. And there are some people who are quite unhappy that Victor is interfering with things with some people. He's made it possible that Sonny and Will cannot reunite, and we know there are a few people who don't like that at all. One of those people is Justin. The other is Adrienne, and we both know that neither of them is afraid of Victor, either. This means that they will probably go out of their way to make sure that he does not get his way with any of this. We are down with that, too.
And then there is the fact that Julie and Doug are hosting Thanksgiving. They've brought together so many people, and that's nice for all of them. They want this day to go off without a hitch or any other situation, but we know that rarely happens for any of them. They are the kind of people who do make things difficult sometimes, but they are celebrating this day with friends and family. So far, we expect it to all go down well and good and no one will really make much of a scene. There are some people who've never been better, some who are just barely holding their lives together, and some who will do anything they can to block out what is happening in their lives. But right now, we just want to focus on the good things they are doing bringing people together for a holidays like this one.
What's Happening on Days of Our Lives
Thank you @MarciMiller for your stunning portrayal of Abigail. And Gabby. And Dr. Laura. We asked a lot you and you always delivered. Wishing you the best in all your future endeavors! ❌⭕️❌⭕️ #days pic.twitter.com/WWUC9bPUwx

— Ron Carlivati (@carlivatiron) November 20, 2018
We can all say that we did enjoy her portrayal of this classic character, and we can all say that she will be missed. While we are all a little excited that Kate Mansi is back in her original role as Abby, we do have a feeling that Marci Miller touched your hearts as much as she touched ours in the role
What's Next on Days of Our Lives
It's Thanksgiving in Salem, and Gabi drops a bombshell on Abigail. Watch #DAYS, weekdays on NBC. pic.twitter.com/7mPQhFiIay

— Days of our Lives (@nbcdays) November 16, 2018
Unfortunately, there is not an encore episode today or anything else of that matter. It's Thanksgiving, and the show is off the air until they decide to come back on Monday. It will be one of those bittersweet days you are excited to see the show come back on, but you're a little boo to have to go back to the regularly scheduled programming of your life. It works like that all the time, but that's all right. You get to do what you get to do , and you get to do it in a way that makes us all feel good bout what's happening. Today is a holiday, and it is a special day for you and your friends and family. We hope that you have a very special Thanksgiving that brings ample love, laughter, and good food. Spend time with your loved ones, makes some memories, and have the best day celebrating all you are thankful for.
It's a good day, and it's one you should not take for granted. Use this time to be thankful for the people that you love and the things that you enjoy in life, and be sure you remember to spend that time with the people you love the most. Tell those you love that you love them, and let go of the little things that don't really mean much to you. They're not important, and that's all there is to it. Happy Thanksgiving to you and your family from us and our families.
Stay tuned for more Days of Our Lives and be sure to check out TVOvermind daily for the latest Days of Our Lives spoilers, news, and updates.