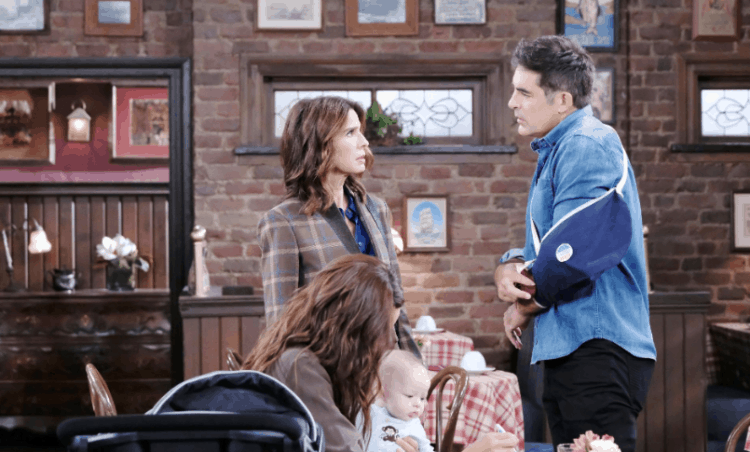 Days of Our Lives fans have been watching the slow and somewhat painful implosion of Hope and Rafe's marriage for some time now, but yesterday was the day that it all came to a head. There was nothing left for Rafe to do but take the papers his wife filed. She's not interested in being married to him any longer, and we get that. He's not someone she wants to be with. She's not someone who wants to be with a man who caused the pain he's caused, and she's not really willing to take responsibility for her own actions in this manner. She's not sure she can handle what is going on in her personal life, and she's not ready to admit that she's been distracted, upset, and that she's also had some big decisions to make. She's a mess, and there is nothing he can do to change that. For now, though, we just mourn that loss.
We also mourn the loss of what Eric has been holding on to all these months. He's been a depressed wreck since the night that his brother pulled him from the fire and Nicole died. Now that she is back and alive, her baby is dead and she is blaming her issues on him. She's not ready for things to turn for the better, and she's not ready to admit that this is not his fault. But, she's giving him the cold shoulder and spending all her time with Brady. And it hurts Eric. He's mourned her for many months, and she's back and he's managed to end up more hurt now than he was when she was gone from his life entirely. How that's even possible is beyond us, but it's hard to watch this happening to him yet again.
What's Happening on Days of Our Lives
.@Ari_Zucker reflects on Nicole's most memorable scenes and shares insight into her return story. Then, @LaurenKoslow and more join host Michael Fairman on the red carpet for the 46th Annual @DaytimeEmmys.

Don't miss the latest episode of Inside Salem! https://t.co/9vlZu6fkQB pic.twitter.com/EoRbfTV9Gc

— Days of our Lives (@nbcdays) May 13, 2019
This one sounds like a good one, you guys.
What's Next on Days of Our Lives
Haley's deportation stirs up controversy. Watch #DAYS, weekdays on NBC. pic.twitter.com/x45D5ISbIN

— Days of our Lives (@nbcdays) May 10, 2019
It's a big day around here as the mayoral results are in and the town has a new mayor. No, we don't know who won the election, but we do know that things will not work out for a few people around here. For one, someone is going to end up not winning. But, it might just surprise us all who takes home the new title of mayor. Will it be who you thought it was, or will it be their opponent? We cannot say for certain, but we can tell you that we know that you will be shocked. We also know that there is a very good chance that someone you love is going to end up being fired from their job today, and it will come as a big shock to her.
That's right, fans. Hope is being fired today, and she is not going to be able to do a thing about it. She messed up. She messed up big, and it's costing her the job she loves more than anything. Her job almost cost her the marriage she's ending. It almost cost her more than that at one point, and now it's not even the only thing she has left. She's lost her husband, her job, and she's not in the best place with her daughter right now, either. It's not a good time for her, and we are not sure she is going to overcome this as easily as she might imagine or hope. Will she get a second chance, or is this it for her?
Stay tuned for more Days of Our Lives and be sure to check out TVOvermind daily for the latest Days of Our Lives spoilers, news, and updates.