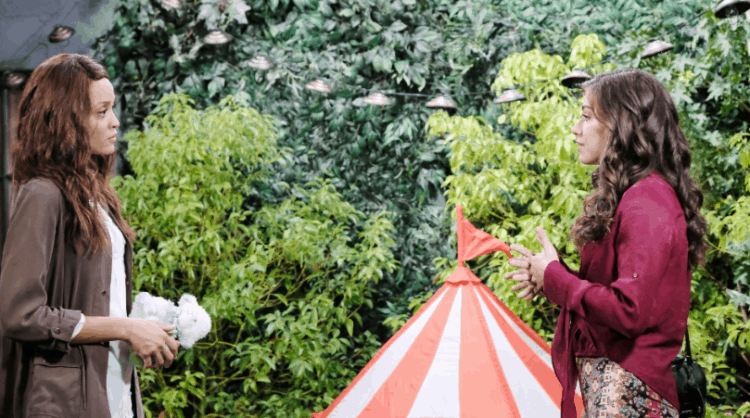 Days of Our Lives fans are just sad that Nicole is where she is. She's back in town after everyone thought she died in that fire, and now her baby girl is dead. She feels that the entire thing is Eric's fault. She had her plan in place, and things did not go her way. Now she blames him, and he feels that he has lost her yet again. He cannot handle this kind of heartbreak once again, and this is not something he feels he can control in any capacity. Sarah, on the other hand, is not all that upset about this. She's actually feeling pretty good that he is not getting her back and that she's freezing him out and blaming him. It allows her the chance to move on in to the man she was undecided about in the past, and now she might be able to get him to forget about Nicole and move back to her.
But it's Brady that everyone is going to worry about. He and Nicole have a long history, and it looks like he is taking her side again. He's been comforting her, trying to make her feel good about life, and trying to fix things that are going on in their lives. But, for now, there is nothing that they can do other than sit back and allow things to work out the way that they are meant to work out. We know that there is a big chance that things will not work out well for them, but he is working on getting her the divorce she wants. But, what will he owe Xander to get this for her? Will he end up in more trouble than it is worth to make this happen for this woman whose life is miserable?
What's Happening on Days of Our Lives
.@Ari_Zucker reflects on Nicole's most memorable scenes and shares insight into her return story. Then, @LaurenKoslow and more join host Michael Fairman on the red carpet for the 46th Annual @DaytimeEmmys.

Don't miss the latest episode of Inside Salem! https://t.co/9vlZu6fkQB pic.twitter.com/EoRbfTV9Gc

— Days of our Lives (@nbcdays) May 13, 2019
We love that she is back, and we cannot wait to hear what she has to say.
What's Next on Days of Our Lives
Haley's deportation stirs up controversy. Watch #DAYS, weekdays on NBC. pic.twitter.com/x45D5ISbIN

— Days of our Lives (@nbcdays) May 10, 2019
Rafe should not be so surprised about what he has coming to him today. He should not be so shocked that things are not working out in his favor. He did take off his wedding ring. He did disobey his wife's orders, and there was a terrible accident for all of that. There is nothing he can do but sit back and realize that he has not done well to abide by his vows and the respect that he needs to have for his wife, but she hasn't done any better. She's been off with Ted more than once, and she's let him get a lot closer than he needs to get. She knew her husband was not a fan of his, and yet she stood there and let him move in on her and make some big changes that will not work out well for her.
And now she's serving him with papers for their divorce. He did not see this coming and he is a little shocked about it. There is a lot going on with them this week, but we suspect that he will not want to move forward with this right now. But, we also know that there is a lot going on with Hope this week, and it will continue to be a bad week for her. It will not get better, and it will not improve for her. Things will not take a good turn, and she needs to get ready for it.
Stay tuned for more Days of Our Lives and be sure to check out TVOvermind daily for the latest Days of Our Lives spoilers, news, and updates.