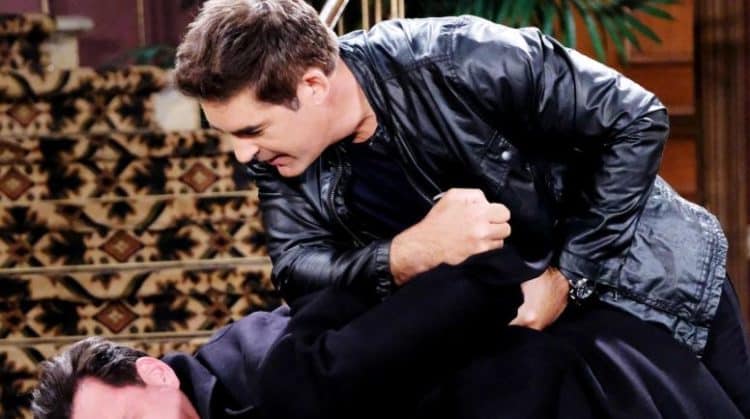 Days of Our Lives fans are welcoming the new week with some big time excitement, and we think it might just be exciting. We know that Jack is back, but he doesn't know anything about himself or his life. He's been in a situation in which his memory has been taken from him, and there is very little he can do at this point to change that. And that means he's struggling. We watched him run into Kayla, who is certainly someone he knew in the past. He's been in her life for many years, and she his, and he's learned a little something from that encounter. Mostly, he's learned that his history might not be as beautiful as it might seem. So far, he's been back with some bigtime situations that are not going to change. He knows he has a wife and kids and now he has some beautiful grandkids, and it all seems like he's been missing out on this gorgeous life.
But now he's getting some insight into what he life looked like before all that, and he's getting some serious drama vibes from it. Naturally, he knows that there is nothing in his life that might be perfect. That's overrated, and he certainly isn't surprised to learn that his wife and kids and grandkids and all that might not be perfect, but what he's also learning about himself and his family and who he was before his memory disappeared is suddenly not nearly as pretty as it might have been in the past. He is learning a few things about himself that might just make your skin crawl, and that's a problem we must all face. But, can we face these problems alone? Can we handle what is coming here, and can we even wait to see how this unfolds?
What's Happening on Days of Our Lives
https://twitter.com/nbcdays/status/1082367541069205505?ref_src=twsrc%5Etfw
Aren't we all, though? I think we can all relate to this in some way, shape, or form. It's Monday, even if you're like us and you don't hate a Monday.
What's Next on Days of Our Lives
Xander and Leo team up to take over, and Haley has a secret. Watch #DAYS, weekdays on NBC. pic.twitter.com/LGks6xugLY

— Days of our Lives (@nbcdays) January 4, 2019
Hope is working very hard to make things work for herself and those in her life, and she's even working well with Stefan right now. He's getting the representation he wants in Ted, and that's all Hope's doing. But we cannot figure out what he is thinking as he is going into this trial after being arrested and charged with espionage and all that he did to make sure that things worked out in his own favor. He's a mess, and Hope should be focused on more important things, like her daughter and the new man she's seeing. She did interrupt their date to make a point of telling Ciara that Ben is the one who helped kidnap Abigail when Chad asked, but it didn't seem to have the same effect that she thought it might have on this situation. We think there might be a bit more to this than anyone cares to admit, but we aren't entirely sure about any of it – to be entirely honest.
Then there is the fact that so many people are going to deal with things in a way that might not work for them. We have a feeling that Ciara is more upset than she thought she might be. There is a good chance she's just taking her time processing all this new information her mother brought her way, and we have to wonder how that will all go and what it will all mean to her. Will this work out at all, or will she have to focus on something other than the way things are going?
Stay tuned for more Days of Our Lives and be sure to check out TVOvermind daily for the latest Days of Our Lives spoilers, news, and updates.