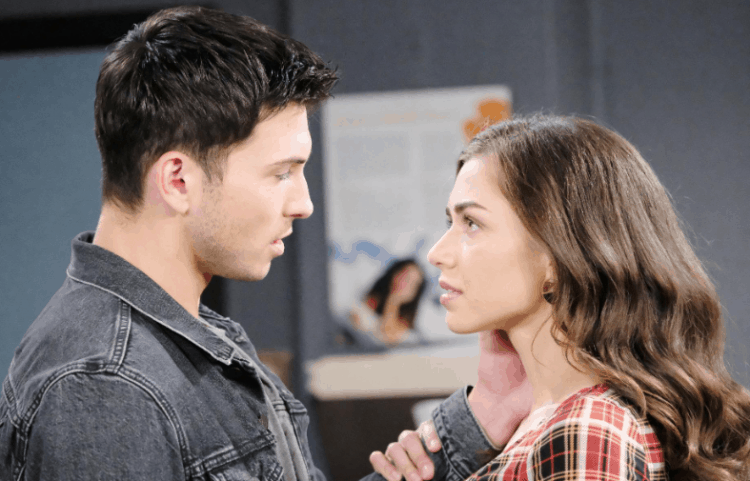 Days of Our Lives fans know that there is a lot going on with Ted, and he's been in the subject line of many conversations this week. He's a man who has been making poor choices like they are his lifeline, and it's been obvious to us this week that he's not a good person. First, he's given up a bit of something about his past and it's all Hope can think about. She's not happy to learn this information about him, and she's not sure how to handle what it is she's learning about him. It seems she hears a little more about him here and there, and it's all adding up to be something she doesn't want to deal with in terms of who he is as a person. She's not all that amused by his life, and she's figuring things out. But Kate is going to also have something to say about Ted, only she's making it very loud and clear. And she's sharing that information with Rafe, who is definitely not his biggest fan.
Ben insists that breaking up with Ciara is the right thing to do, but she's not sure she understands why he's so worried. He can't seem to figure out how to change his life, though, and that's a thing. She's in the middle of wondering why he is hurting her so much, and he is in the middle of wanting to do more for her. She's not going to have much to do about this other than trying to talk him out of it. However, he is not in the market to be talked out of this. He just wants to be left alone to heal. He feels he made the best decision, and that's all there is to it in his own mind.
What's Happening on Days of Our Lives
.@camilabanus chats about the Chad and Abby exit. Then, @ChandlerMassey and @freddiemsmith discuss all things Will Horton and Sonny Kiriakis. Don't miss the latest episode of Inside Salem!https://t.co/bmBVq4hWnv pic.twitter.com/bkgIcCm79L

— Days of our Lives (@nbcdays) March 2, 2019
We love this, and you don't want to miss it.
What's Next on Days of Our Lives
Stefan and Chloe share a passionate first kiss. But is Gabi jealous? Watch Days of our Lives, weekdays on NBC. pic.twitter.com/hDKLvtzTx2

— Days of our Lives (@nbcdays) March 1, 2019
Chloe knows that there is something going on, but she's not sure she should be paranoid. She's not sure if this was just a one time thing or if there is really something going on in her life. We hear that she is going to find some evidence, however, that states that she might just be right about the way things are going in her life. She might find some evidence that someone is watching her, and she will go straight to Stefan with this information. They seem to have developed something between them, and she might just feel that he is the man for her. She might feel that he can help her in a way that no one else can, and that will not make Brady feel much better about his role with her. He's not a fan of Stefan, and this is only going to make that situation so much worse than it already is.
Meanwhile, we know that this evidence might just prove something else is going on. She's been through a rough few years if you take into consideration all that's happened to her, but things will not improve if she cannot prove that there is someone after her. And they will not improve if she feels that Stefan is the man for her. He's not the man for her, and we all know it. He is a man who is dealing with a lot more than we think she's ready to handle, and that's all there is to it in our opinion. But, what will happen when everyone else feels the same?
Stay tuned for more Days of Our Lives and be sure to check out TVOvermind daily for the latest Days of Our Lives spoilers, news, and updates.