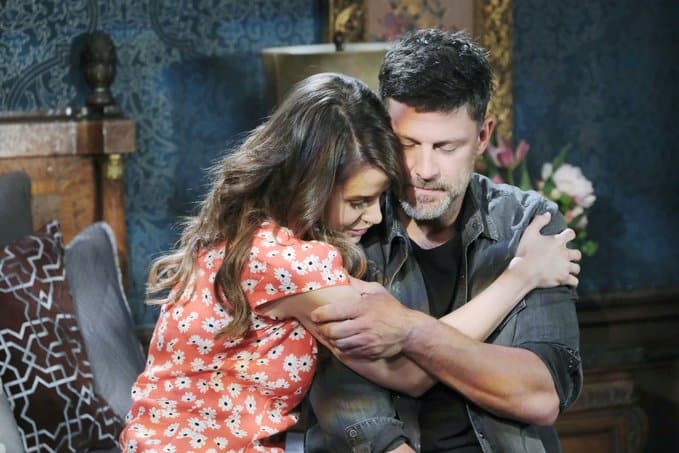 Days of Our Lives fans can tell it is February, because love is certainly in the air for many Salem residents. It turns out that so many people are finding some love on this day, and we cannot tell you who it is that will make it, but we can tell you who it is who might just try. For one, we all know that Xander was a bit unhappy to find Sarah in a situation that was anything but welcome. He found her in the middle of something he did not like, and then she decided it was time to tell him that she's in love with him and only him. Is she being honest with him, or is she lying to him to keep him happy? We don't know, but she has gone out of her way to profess her undying love to him, and we cannot handle it in the least. Then there is more. There is also another love match.
It turns out that it's also Brady and Kristin. They are sharing a kiss that might just make you feel a little bit shocked. They seem to have figured things out in their lives to a small extent, but we don't know if that's a good thing or a bad one. We can see that there are some things that will make it out of this story, but we know, too, that she's not sure that he's with Nicole any longer. They shared a kiss, and we think they both liked it. We know she did, but we also think that Brady might be in it, too. Eric and Nicole also decided to make things work, which is always a happy moment for fans who want so badly to see them together and to see them happy. But, for now, we also know that this is not all.
What's Happening on Days of Our Lives
Drop a 💙 and celebrate with us! #DAYS has officially been renewed for its 56th season! pic.twitter.com/AiySeENOzA

— Days of our Lives (@nbcdays) January 29, 2020
Still celebrating, and we love it.
What's Next on Days of Our Lives
Sarah says the words Xander has longed to hear, and Eric finally forgives Nicole. Watch #DAYS, weekdays on @NBC. pic.twitter.com/ZHL61tSg0m

— Days of our Lives (@nbcdays) February 1, 2020
Gabi is a woman who has to do things her own way or she will not be happy. She's trying to control Julie's heart and keep things going the way she needs them to go, but she doesn't know what is going on with the app. She doesn't know that JJ has control of the app, which as control over the pacemaker that is inside of Julie. She's a mess right now, and she is struggling. She cannot share this with anyone, though, and she's a mess. She's not sure how to stop this and how to protect anyone, but this is a situation that is not going to allow anyone to make things right. She's a hot mess right now, and she's struggling to keep control over those in her life.
On the other side of things, she's a woman who has a lot to offer in other manners, but it's JJ and Lani who are doing all they can to make sure that Gabi does not have control over Julie and her heart. They are doing all they can to gain control themselves, and it seems to be working in their favor a bit, but maybe it might be problematic in the future. They can figure this out, but it might not be as easy as they thought, which means bad things might happen. Sarah and Xander are going to share some romance with one another, Eric is going to move in with Nicole, and there's a lot of love going on around here right now. It's that time of the year, and it seems to be going well.
Stay tuned for more Days of Our Lives and be sure to check out TVOvermind daily for the latest Days of Our Lives spoilers, news, and updates.