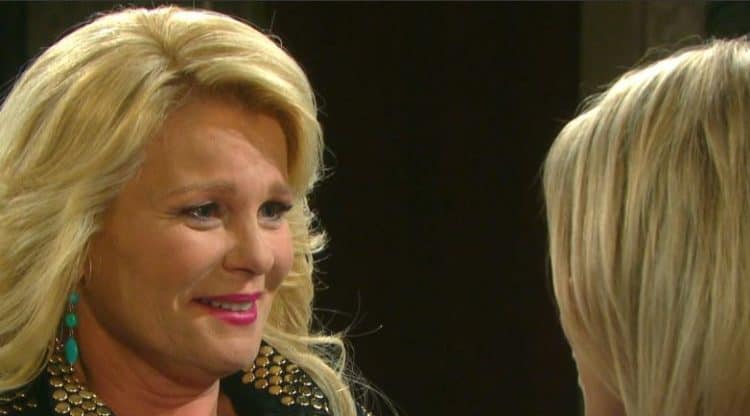 Days of Our Lives fans know that we've been questioning whether or not there is anything that Susan means and what she's up to. Sami's been using her to get information about her late husband, and now we think that we might be right about all we suspected of her. She seems to be a suspect character in every sense of the word, and we need to know if there is anything else that we can bring from her. She's been giving us al kinds of issues for a few weeks now, and we now know that even Will and Paul are suspicious of her. They had a very interesting run in with her yesterday, and it was all we could do to handle what was going on with grace. She's not someone we trust, even if she did bring Sami back to EJ. Those DNA test results don't lie – or do they?
Add to that the fact that we saw that Sami had to find the missing patient when we got up and left. Or was taken. Or whatever she fears happened to her husband who is no longer dead. There is so much going on that we cannot even keep our minds straight at this point in time. She's got a lot on her plate, we have a lot on our plates, and everyone is a little bit questionable about things in their lives at the moment. What we do know is that he is missing, a lot is happening, and someone is not going to be happy with the way things are going on around here. Let's not forget to mention, too, that Stefan got some upsetting news about his own family, which should come as no big surprise to anyone who knows him and his family, but still. It's been a long week for everyone.
What's Happening on Days of Our Lives
We're all invited to the #Jarlena wedding! #DAYS pic.twitter.com/sVqdjrceXP

— Days of our Lives (@nbcdays) November 4, 2018
We cannot even wait to see this one, and we cannot wait to see them get married without any issues, shootings, near deaths, or anything like that. It's not like they didn't just go through that and all, but who are we to say it can't happen again without any issues?
What's Next on Days of Our Lives
Rex broke Sarah's heart – and now she wants to break his face. Watch #DAYS, weekdays on NBC. pic.twitter.com/Dr2a6KhMEV

— Days of our Lives (@nbcdays) November 2, 2018
It's a big day around here, but it won't be a good one for everyone. We will start with the bad news and work our way to the good stuff. For one, we know that EJ went missing and Sami is desperate to find him. She literally just got him back after years of thinking he was dead, and she did that with the help of Susan who was having visions. But now Susan is threatening Sami – with a scalpel. She's not happy with the way things are going on in her own life, so she's taken things into her own hands, and she's making it her mission to see if she can get this situation further into her own control. We aren't entirely certain there is much we trust about any of this, but we know that there is a lot we can handle in the meantime.
The good news, however, is that it's a wedding day for a special couple. This couple has had a rough few weeks, and it's been a very disturbing situation for all of them. They have a lot of stuff to deal with, but we can handle it and it's going to be just fine. John and Marlena are finally going to get married, and we just hope that they can make it down the aisle this time. They have all the love in the world for one another, and we hope that they can get this situation under control in their lives. It's good news if they can.
Stay tuned for more Days of Our Lives and be sure to check out TVOvermind daily for the latest Days of Our Lives spoilers, news, and updates.