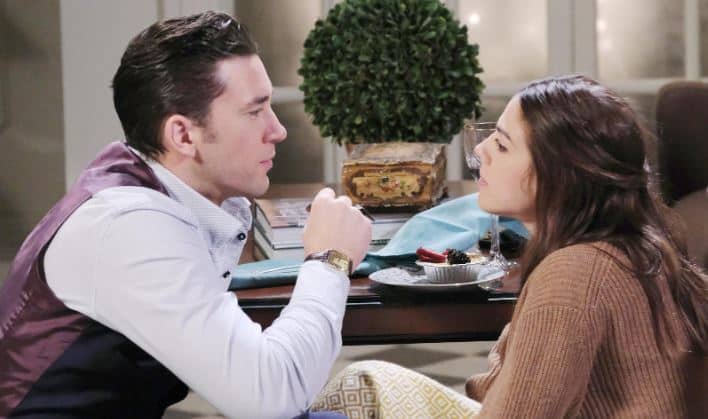 Days of Our Lives fans are not too surprised that Nicole lost her cool with people like Marlena. She's still Kristin, and no one knows yet that this is the truth. And, we all know that Kristin is not a fan of Marlena. Still, though, we do have to ask ourselves if there is more to this than we thought possible. We thought there was a chance we could see them figure it out because she might pretend to be nice to her, but we think Kristin has given up on anything that might make her look or feel like a nice girl at this point. She's a mess, and no one can deny that in the least. She's making poor decisions. She's a person who doesn't do the right things. She's got issues she cannot face, and we get that. When will everyone figure out what is going on?
Meanwhile, we all hope there is more to this story than we've seen in the past, but we do hope that there is something a little more exciting to look forward to. We know that Anna is going to slap Tony hard on the face, and we have to question what makes her want to do that? We know there is a lot that happens in their lives and on their situational front, but there is nothing that makes us want to slap someone that hard — is there? Perhaps the fact that we cannot even come up with the concept is enough to make us realize it might be a bad situation. She's going to take that out on him, and it might not bode well for her. She's not a nice person, and we get that. But, there's always the fact that we don't have much else to say in that regard.
What's Happening on Days of Our Lives
BTS? ✅ Inside scoop? ✅ Even MORE drama? ✅ Check out Inside Salem, the official #DAYS podcast, to keep up with all the latest in Salem.

Listen to every episode now: https://t.co/9vlZu6fkQB pic.twitter.com/qLvNvu6yuQ

— Days of our Lives (@nbcdays) August 12, 2019
Well, are you ready?
What's Next on Days of Our Lives
Anna has a dramatic message for Tony, and Ben and Ciara overhear something they shouldn't. Watch #DAYS, weekdays on @NBC. pic.twitter.com/yjZ94Utnwy

— Days of our Lives (@nbcdays) August 9, 2019
Nothing is going well for Jack and Jennifer. She was happy when he was alive and well and back in her life, and then she realized that he was not alive and well. He was alive, and he was well, but he was not himself nor was he someone who was going to have much else to say about things that are going on in the grand scheme of things. There's a lot happening around here that makes him feel good about his life, but there is something bothering her. For one, the fact that he was willing and able to marry Eve when they had so much to offer one another was a situation that doesn't make much sense to her. Then the fact that he wasn't sure he wanted to get his memory back was another. It's a mess, and that's just how it goes. For now, though, we can see how this might make more sense to those around us, and it makes us feel good about it.
We also love the fact that we can see things unfold for Jack when he asks Jennifer about the article she wrote about him. He doesn't feel it's entirely fair, and he might be right about that. It might not be entirely fair. It might not be what he wanted to hear about himself, but he's Eve's puppet and he knows that. Well, he might not know that as much as other people know it, but you get the point. He's confronting his old wife, and she's standing her ground.
Stay tuned for more Days of Our Lives and be sure to check out TVOvermind daily for the latest Days of Our Lives spoilers, news, and updates.