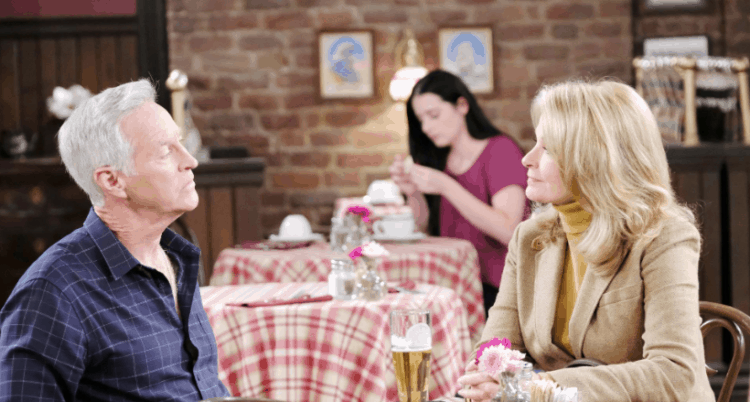 Days of Our Lives fans are all kinds of interested in what is going on with Gabi and Brady now that he has pressured her to join him in his overwhelming desire to take down the awful Stefan. We are all on board with that, by the way. We know that he is awful and no good and evil and bad, and we are all about it. We aren't sure about Gabi at this point, though. She's not been herself in a long time, and we are not sure she's a reliable person to work with. Nor do we feel that she's capable of being more revengeful than she's been recently. It's not gone well for her in the past, so we are feeling that she has a lot more to offer in another manner – perhaps by simply being nice and doing the right thing in her life. But, what do we know about it?
And then there is Stefan, who has now mentioned to Chloe he is definitely interested in her and wants to see where things go romantically. Is she ready for that kind of step with him, or will this turn into something we cannot handle or decide on our own? Jennifer is not happy when she finds out Jack is running for mayor. The man literally just came back to town from the actual dead – well, he wasn't dead but everyone sure thought he was for years and years and years – and now he's going to run for office despite the fact that he has absolutely no idea who he is or what has been happening in Salem after all these years? And we all know that Abe has to side with Jenn on this one. It's a bad idea, and we all know it's also Eve's idea. This will not end well, and we cannot wait to see where it goes from here.
What's Happening on Days of Our Lives
Can someone turn down the heat in here? 🔥 #DAYS pic.twitter.com/O9i1mS5iFN

— Days of our Lives (@nbcdays) March 4, 2019
We just don't love it, honestly.
What's Next on Days of Our Lives
Stefan and Chloe share a passionate first kiss. But is Gabi jealous? Watch Days of our Lives, weekdays on NBC. pic.twitter.com/hDKLvtzTx2

— Days of our Lives (@nbcdays) March 1, 2019
Diana is not a happy woman now that it's been announced that Leo is the son of John, and she is looking for a way to get rid of this woman once and for all. Her primary goal is to get her life in order so she can make things right for herself, and she's looking to protect her son. But her son is a man who does not have many friends, much goodness, or anything positive in his life that is helpful to anyone in any capacity. While we want to see where this goes, she's in the market to kill Marlena, and we don't love that. Marlena is a friend of ours – we like to think – and we are beyond tired of watching people try to kill her. She's amazing, and this is getting a little bit old.
Jack, on the other hand, is working hard to get his life in order. He might not know who he actually is or what he is doing in his own life, but he's working very hard to make sure he's able to get his life in order and things working for his ultimate game plan. He's a man who is still working to get his situation for mayor in order, and this is going to mean using Tripp to get to Haley, and that's not cool. JJ is going to lose his mind, and this man is going to lose his family. Though we don't think he cares about that at all given the fact that he isn't even really sure who his family even is.
Stay tuned for more Days of Our Lives and be sure to check out TVOvermind daily for the latest Days of Our Lives spoilers, news, and updates.