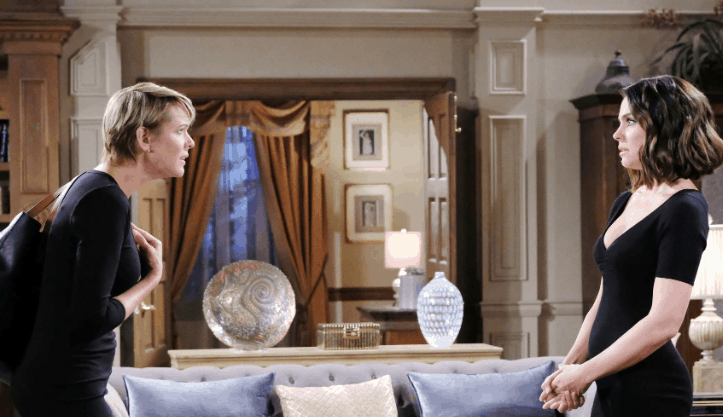 Days of Our Lives fans were shocked when things unfolded the way they did for Maggie yesterday. For one, we had no idea she would walk in on Victor and Kate sharing a moment. Even though she might not know what it was to the full extent, and they certainly won't tell her that they are up to no good, she misread the situation. She wants an answer, and they did not give her one she feels is good enough. She's got a lot on her mind right now, and she's not in a good place. She's already in a place where she is tempted to drink and turn her life into a spiral, and she might just do it right now. She might lose control now that she feels so much of her own life is out of her own control. This was a moment that might be one we should remember as she does spiral.
Furthermore, we did learn that Eve is the new police commissioner, which is certainly not a job she is at all qualified for, but her husband allowed this to happen. Hope is beyond indifferent at this point, and she simply does not care. John is working so hard to find out where to locate the diary that Rolf hid so that he can help Marlena. She's a total mess since Will lashed out at her and made her miserable, and she's got to do something that will make this situation better. Things are not looking up for many of them, and we totally get it. We are just not surprised in the least that they would go this route and make this situation their own. They have so much to do, and they have so much to love, and they have to figure this out. Will they, though?
What's Happening on Days of Our Lives
Hey #Jarlena fans! Got a question for your favorite #DAYS super couple?

The lovely @DeidreHall and @DrakeHogestyn are going live on Instagram this Friday at 6:30 pm ET/3:30 pm PT to answer them. Reply with your questions below! pic.twitter.com/iUsk9dLmWN

— Days of our Lives (@nbcdays) May 16, 2019
That's exactly what we want to hear.
What's Next on Days of Our Lives
Salem has a new police commissioner. Be afraid. Watch #DAYS, weekdays on NBC. pic.twitter.com/cACzKzqGRZ

— Days of our Lives (@nbcdays) May 17, 2019
Jack is the new mayor of Salem, and we are all still shocked by this. We are not sure he really won or if there was something else going on that made this possible, and we certainly never discount anything that is happening around here. But, for now, we also have a chance to see things as they unfold. There is more going on here than we can focus on, but we don't know how to focus on anything other than the fact that he is making changes left and right now that he is the mayor. And none of his changes seem to make much sense. He's taken Hope from her job, and he's given it to Eve, and we hear that what he is up to right now might be the biggest change yet. If it can even get any bigger than it already was, of course. But, for now, we have to focus on things that work for us in some way, shape, or form.
There is a chance we can see things make a big change in some way, too. We can see things work out for those who are in a different place, including those who are working to help Will. Marlena and John are doing everything they can to find Rolf's diary, and they hope that finding it will make some big changes to the health and wellbeing of those who were dead and brought back from the 'dead' to live in Salem, but have no memory of who they are or what their lives were life.
Stay tuned for more Days of Our Lives and be sure to check out TVOvermind daily for the latest Days of Our Lives spoilers, news, and updates.