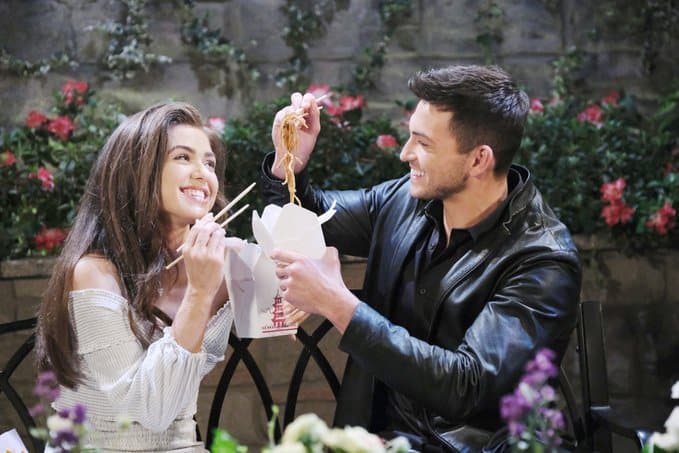 Days of Our Lives fans are all so excited that things are going well with Ben and Ciara and that they are getting married. Their proposal was something we've been waiting on for a very long time, and we find a lot of joy in their happiness. They need this and the time that it allows them to spend with one another, and we are thrilled for them. We'd like to see some wedding planning go ahead now, and that's all. But, we are also in the midst of watching things unfold with Abigail, who is just seeing things that simply are not there. She's got a lot on her mind, and she is a mess, but that's not all she has to deal with right now. For one, she's got more to this than we thought she did. But, she's attacked Kate, and that's a problem for everyone. Did she hurt her? What will Kate do to get back at her?
Gabi is not a happy camper right now. Jake is here, he looks just like her dead husband, and she's now convinced that he is her dead husband. Her new life goal is to find Rolf and get the answers she needs about him and about his death and anything that might have happened after that. But, what do we know about any of this? Very little in the moment, to be quite honest. Ciara told her mom that she's going to marry Ben, and we think that Hope's reaction to this was not as bad as we thought it might be. We know that she doesn't love this for her daughter, but she has to be there to support her rather than to just alienate her and take her out of her life in this capacity. It's a real problem right now.
What's Happening on Days of Our Lives
ICYMI: There are all kinds of mothers in Salem! And they always bring the drama and love to those near and dear. Take a look at the #DOOLapp salute to #MothersDay featuring @KristianAlfonso #MelissaReeves #StaceHaiduk @DeidreHall @SuzanneC_Rogers and more!https://t.co/Pc2QXTv3Tk

— Days of our Lives (@daysofourlives) May 11, 2020
We love moms!
What's Next on Days of Our Lives
Ben and Ciara get engaged, Kristen confronts Sarah – and the truth about what really happened last Mother's Day is revealed. Watch #DAYS, weekdays on @NBC. pic.twitter.com/pSq5TZF6FQ

— Days of our Lives (@nbcdays) May 8, 2020
Evan and his family are ready for what happens in court this week. He's ready to take on the role of father and to be with the little boy he came to town to find, but he forgets that he did kill his mother, too. He's the reason that Jordan is gone, and the reason that Ben spent almost a year in jail, and he used Sonny and made a mess of so many things. He and his family will show up at the jail today to find out what is going on, how it will all work out, and what his future will look like. We don't see this ending well or being good news at all, but we think that it might just work out for him in some capacity. For now, though, we hope that it's not as bad as it seems for Sonny and for Rafe and for the little boy.
Jake is not looking to get any help with his memory, so he's rejecting what Gabi is offering him. She's trying to get him to become her dead husband — we still aren't sure — and he's not that interested in this. She's not going to be happy. Chad, Jennifer, and Jack are going to surround Abigail and try to get her to work on becoming herself again following her attack on Kate, but we just don't know how this will work for her or what it will all mean for her, either. She's working with a lot that is not quite right in her world right now.
Stay tuned for more Days of Our Lives and be sure to check out TVOvermind daily for the latest Days of Our Lives spoilers, news, and updates.