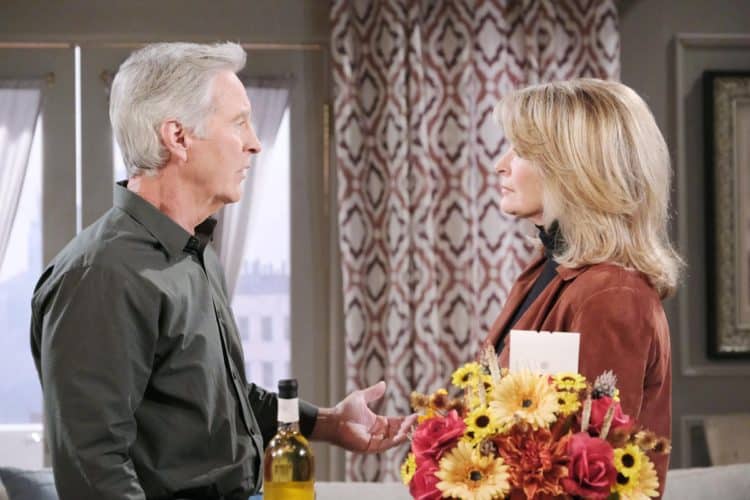 Days of Our Lives fans saw a lot happen in a short week last week, but it's over. It's done with, and everyone is happy that the show is back on the air after a long break for the Thanksgiving weekend. And, while we hope you all enjoyed your time with loved ones, we are sitting here thinking about all that happened before things broke down, people turned on one another, and things got worse. For one, we know that Marlena things she has a secret admirer, and she very well might have one. We still aren't sure it's not just Princess Gina being a nightmare trying to get her to fall for another man while she swoops in and takes care of business with John on her own accord, but what do we know? What we do know is that this is not a storyline that is ending very soon.
We also know that Xander is up to no good, not that anyone is surprised by that. We also know that there is a lot going on with the people in the Ciara situation. She's making some big moves on her own, and we aren't sure where she is going with those. Is she looking to do things in a good manner, or is she looking to make a mess? We know that Steve is back in town, and Kayla is with another man. This is not going to go over well with him, but we do assume it is going to make things very interesting for the rest of us if we had to take a guess about how this will all work out. It's all going to be a bit of a mess from now on, but that is what we love so much about this show.
What's Happening on Days of Our Lives
Did you know Thanksgiving is @GalenGering's favorite holiday? Happy Thanksgiving from us to you! 🦃#DAYS pic.twitter.com/Iy6UQf2FGb

— Days of our Lives (@nbcdays) November 28, 2019
You know, it's ours, too.
What's Next on Days of Our Lives
Eric learns the truth about Sarah's baby, and Chad pays a visit to a shadowy figure – could it be that the Phoenix has risen again? Watch #DAYS, weekdays on @nbc. pic.twitter.com/Jeo4SSVRGO

— Days of our Lives (@nbcdays) November 23, 2019
There's a lot happening this week, but let's start with John and Marlena. They are trying to figure out who it is who is reaching out to her with some sort of crush on her, and they have an idea. They think it is Stefano who is doing this, and they think that he has some feelings for her. But, we are sitting here thinking two things as fans. The first thing we are thinking is that there is no way it is him, because we definitely think that Princess Gina is up to something. She's got the hots for John, so we suspect that she's more invested in this than she is letting on. And we think that she is completely and utterly up to no good as she is regularly invested in being like in her own life.
The second thing we want to point out is that they have to focus on something else in their lives. Why are they focused on another man who might have feelings for her? Why aren't they just letting this go and moving on with their own lives? We know that they know it's not good to focus on anything that is not good in their lives, and it's better to ignore the fact that someone else is trying to come between them. Why do they think that they can sit here and focus on something like this and have any positive impact on their marriage and their lives? It's not good, and they should now better than this. Of course, they don't.
Stay tuned for more Days of Our Lives and be sure to check out TVOvermind daily for the latest Days of Our Lives spoilers, news, and updates.