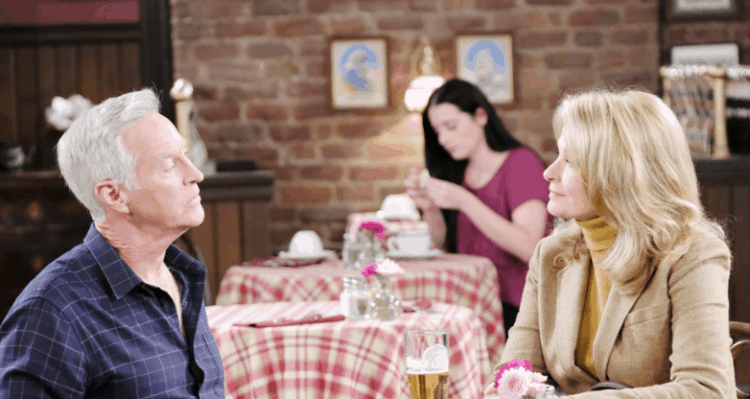 Days of Our Lives fans are seeing that Claire is an unhappy girl when she finds out that Tripp has allowed Haley to move into his apartment. She's furious, and he's not happy with her, either. They are in the worst place they've ever been, and we do not hold out much hope that she can convince him that he should forgive her for all the things that are not going his way at the moment. However, we do think that he will not be overly concerned with the fact that she's upset…though we think this also means he won't take much notice of the fact that her being upset with Haley is not good news for Haley. She's already on shaky ground with her immigration status, and this is not going to go well for her if Claire decides to take this matter into her own hands – and she's the type to do just that.
Tripp has no idea that he's being used by Jack at this point, either. He has no idea this man is using him to get to Haley so that he can use what he knows about her to his own advantage. He's running for mayor now, and most people are unhappy with his personal life choices – and we get that. We get that he is not going to have much else to say bout things other than to make it work for him. He doesn't care what Jennifer thinks, but we are fairly certain that most of that is Eve talking. He doesn't know otherwise, to be completely honest. There's just not much they can do about that at this point, but someone will eventually find a way to bring him back to his own mind and make him remember who he is.
What's Happening on Days of Our Lives
A sight for sore 👀. #DAYS

📷: @ggering pic.twitter.com/2RaLO76Ila

— Days of our Lives (@nbcdays) March 7, 2019
We love them, don't you?
What's Next on Days of Our Lives
To come between John and Marlena, Diana carries out a deadly plan. Watch Days of our Lives, weekdays on NBC. #DAYS pic.twitter.com/mmKFF7dEH7

— Days of our Lives (@nbcdays) March 8, 2019
John knows that his wife is not currently very happy with him. She's been in a bad place since she found out that he might be lying to her about the baby that he had with another woman all those years ago, and that he might know this baby and the woman who showed up with the grown man who is ruining Sonny's life. Leo is not a good person, and finding out that he is his father is not happy news to John. It was even worse news for his wife, but mostly because she realized that he knew and didn't say anything to her. Going behind someone's back is not a good thing when you go about your business thinking all is well and things will work out in the long run. But, there is so much more to it than that. There is also the fact that things are not going to work out for her because of Leo's mother.
She's trying to kill her to get her out of her own way and out of her son's way, and John is about to find his wife unconscious and not doing well. This is not good news for any of them considering the fact that they haven't had the easiest time the past few months. They're already struggling so much, and this doesn't make things much easier for any of them. They have to deal with things to their own advantage, but what happens when they don't really get to see things happen the way they thought they might happen? What happens when she's not all right?
Stay tuned for more Days of Our Lives and be sure to check out TVOvermind daily for the latest Days of Our Lives spoilers, news, and updates.