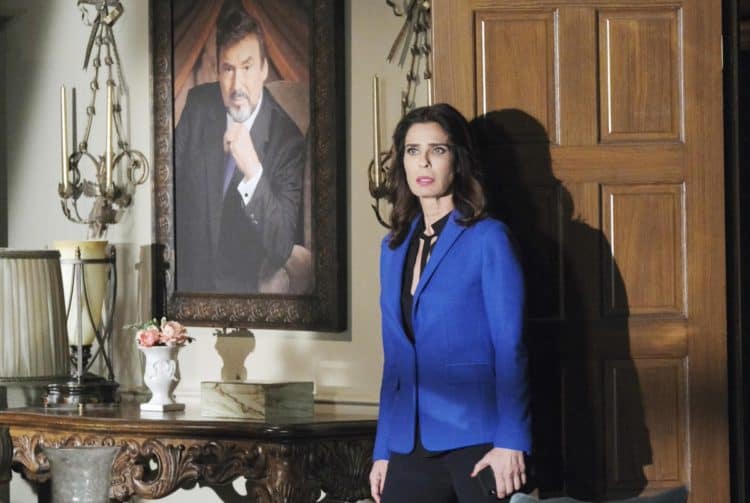 Days of Our Lives fans aren't surprised that Kristin is going through so much right now. She's a horrible person, and it seems like this would happen to her since this is what she wanted from her life. She wanted to see things unfold for her in this manner. She wanted to see people unhappy with their lives. She wanted to make sure that people had a chance to see her make a fool of herself. She wanted to be there when people were living their worst possible lives. She wanted to be miserable, and she wanted to make everyone else miserable with her. She tricked a man into getting her pregnant by pretending to be the woman he loved. Now she's put him in an impossible situation trying to decide how to handle this. He cannot stand her and her horrible manners and the awful things she's tried to do this his family — you know, like kill Marlena and stuff.
But, Brady is not the kind of man who can go through life knowing that a woman is carrying his child and not support that as best he can. It might not be even close to an ideal situation, but it is his situation and there is little he can do about that in the moment. He has little choice in the matter, but he can focus on things that might be inside his realm of control by handling his business and trying to make things right. We aren't sure how much he can really do that will work for him, but he can try as hard as he wants to be there for her, including in her time of need. Her medical emergency is not good, and he will continue to be there and to do what he can for her.
What's Happening on Days of Our Lives
ICYMI: @camilabanus talks about the end of Stabi and what this means for Gabi. Later, Matt Ashford and Melissa Reeves celebrate Jack and Jennifer's emotional reunion.

Don't miss the latest episode of Inside Salem! https://t.co/9vlZu6fkQB pic.twitter.com/2kxg5E3oZK

— Days of our Lives (@nbcdays) October 21, 2019
This one ought to be very good.
What's Next on Days of Our Lives
Marlena drops by unexpectedly and catches Eric and Nicole in an intimate moment. Watch Days of our Lives, weekdays on NBC. pic.twitter.com/R4PKlOtfqC

— Days of our Lives (@nbcdays) October 11, 2019
Jordan is a problem. The simple fact that anyone allowed her to leave the hospital and go back out into the world is totally beyond everything we feel is even remotely right, but it did happen. She's got a lot going on in her life, and she is a mess, but what about everything else going on? She's got so much in her life that she is focusing on that she needs not focus on. She's got so much to live for, like her son, but she's just over here making Salem miserable by working on deadly plans that will take lives and make people miserable. Her current target is her own brother's girlfriend, Ciara. She wants her dead, and Jordan has no idea that she's also a target for someone else.
Victor called a hit on her, and we don't know who will win this one. Will anyone die? If so, will it be Jordan or will it be Ciara? There is no telling at this point, but we also know that the world is about to shift a total year from now in their land of Salem, so maybe we don't even get to see what happens next. Maybe this is one of those situations that only plays out so far before it totally falls apart and there is nothing else we can do but sit back, relax, and figure out how it all got to this point when the big fast forward happens. Rumor is that it's happening in the next week or so; so let's get ready for that.
Stay tuned for more Days of Our Lives and be sure to check out TVOvermind daily for the latest Days of Our Lives spoilers, news, and updates.