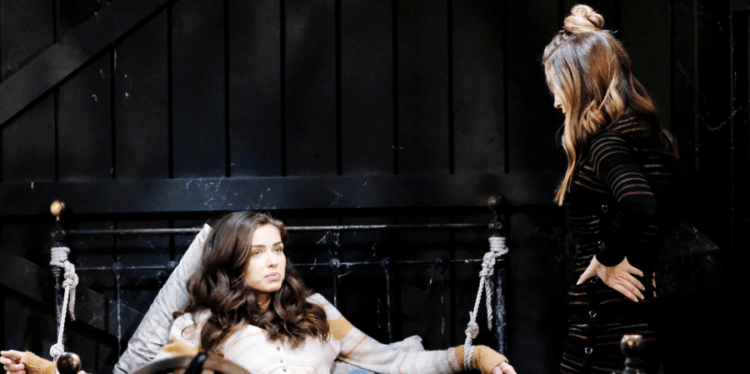 Days of Our Lives fans are always looking for a way to make things more interesting, and we know that we don't even have to work to make that happen around here. With Baby Charlotte missing and everyone panicked about what happened to her, we are seeing nothing short of total chaos. It's been ugly and unfortunate for everyone around here, and we cannot help but wonder if there is anything that will change for this family. They've been through so much already, and it's not something they need at this point. After all that they've lived with, they were working on figuring out if there was a way that they could be happy and live their lives like a normal family. It appears this is not something they can do at this point in their lives. Their baby is missing, and there is nothing they can do right now but hope that someone can give them some information.
Everyone who is not panicked about Charlotte is panicked about Ciara. She's still missing, and only Jordan knows where to find her. Of course, she's not saying a word about what she knows. But, we suspect that Ben will find her and make this right. Will that be enough for Hope to forget that he was once a crazed serial killer? Probably not. That's not a thing you just forget, and we get that a mom can't just let her daughter date a man with such a violent history and be totally okay with that. But, we do love him and all the changes he's made, even if his sister is clearly crazy, too. This is all bad news for Ben, but we know he will find Ciara this week and bring her back. He's determined, and that's all there is to it. We know this because he is working so hard.
What's Happening on Days of Our Lives
Love is in the air in Salem! Cast your vote for your favorite #DAYS couple now in the #DOOLapp and find out who wins on Valentine's Day. ❤️ https://t.co/F2q5A4S9tP pic.twitter.com/0C6JmLzg16

— Days of our Lives (@nbcdays) February 7, 2019
This is fun! Who is your favorite Days couple of the moment? We want to say we have a favorite, but then they all seem so good at the moment. They're all worth celebrating this week filled with love.
What's Next on Days of Our Lives
The most romantic week of the year. Get ready to be swept off your feet. Watch #DAYS, weekdays on NBC. pic.twitter.com/LiJof4pj8I

— Days of our Lives (@nbcdays) February 8, 2019
So, we know that Kate is someone who is not a stupid woman and she's not going to be too far from the truth of what is going on around here for much longer. We hear that she's got an idea that something might not be quite right around here, and she's not wrong about that. It turns out she might have an idea that Jordan is up to no good, and we hear that Jordan is going to do something to keep her quiet no matter what it takes. This will end up causing a lot more harm than good if you ask us. This is not something we want to see happen, but perhaps this is what it will take to find Ciara and clear Ben's name from all that is going on in his life right now.
We do think there is a good chance that what happens to her will not kill her, though, and we hear that Rafe is going to find Kate. He will save her, and there is a good chance he will end up getting some answers from her about what happened. But, will they get to Ciara before Ben does? He will save her, but him arriving there to save her without notifying anyone else might make him look a little guiltier about this and what is going on in this situation. It may provide him with something to explain, and no one will believe Ciara when she tells them he is innocent. They never do.
Stay tuned for more Days of Our Lives and be sure to check out TVOvermind daily for the latest Days of Our Lives spoilers, news, and updates.