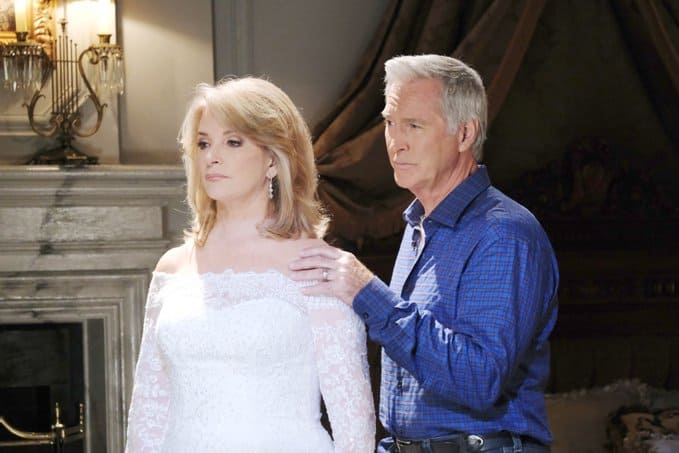 Days of Our Lives fans are not going to find that things began on a good note this week. In fact, they did just the opposite. They started on a rather upsetting note when Brady was shot. We did not see that happening, we did not see that coming, and we did not see that as a situation that might happen. He was, though, and now everyone has to deal with that as a part of the world that is just their reality. On the same note, we are seeing that Stefano is trying to continue to work his magic on Marlena by asking her to end the life of John. There is no way she can do this. She cannot kill the man she loves the most in the world, the man whose heart she owns and who owns hers. She's not able to see a way out of this, though, so there's a lot happening here she cannot deal with.
Abe knows what Nicole knows. They are working very hard to find Dr. Raynor and get the proof that they need. They need a lot from him right now, but can they find him? And, will he make it a point to tell them the truth or will he continue to lie and to do things to his own accord? We just don't know, but we can see that there are so many things that might make a difference. Anna and Abigail are working so hard to make their lives better. They are looking to find their family and they are looking to make sure that everyone is all right and that Chad is not under the control of his father any longer. There's a lot that they know they have to figure out, but they are working very hard to make that happen.
What's Happening on Days of Our Lives
A quick #sunday #drive with my #❤️to feel the #warmth of the #sunshine before the #rain returned this afternoon .#staysafe #staystrong we will get through this #together #😘. #lovemyfamilyandfriends… https://t.co/bzNdtoxKq4

— Kristian Alfonso (@kristianalfonso) March 22, 2020
We love that she's getting out and getting the sunshine.
What's Next on Days of Our Lives
Endless love abounds in Salem as couples reunite and commit to each other. Watch #DAYS, weekdays on @NBC. pic.twitter.com/S8LVPQOmss

— Days of our Lives (@nbcdays) March 27, 2020
Stefano is not without his hideout, and no one is shocked by that. He cannot be easily caught or located for found by anyone at this point, and that means that there is nothing we can do about any of this. But, we have to see that there are things happening. Anna is going to find him, she's going to create some serious chaos, and he is not going to like it even one bit. He's not going to be amused or happy about any of this, and it's going to be a problem for all of them. Then there is Abigail, who is going to go out of her way to break the spell her father-in-law has on her husband. She's not going to allow this to continue, which means that Stefano is about to lose his mind in every manner of speaking.
Then there is what is going on with Kayla, and the fact that they are discussing their future. He does not want to lose her, but it was obvious to him when she thought that Steve was back in town that her heart does not belong to Justin at all. He lost Adrienne, and he's unwilling to lose another love of his life, but this is not something that he wants to do to himself if her heart is truly with another man – and it is. So, they will discuss this and see where it takes them in the moment. We hope it takes them somewhere good, but we just don't know. It's a lot, and it doesn't mean much.
Stay tuned for more Days of Our Lives and be sure to check out TVOvermind daily for the latest Days of Our Lives spoilers, news, and updates.