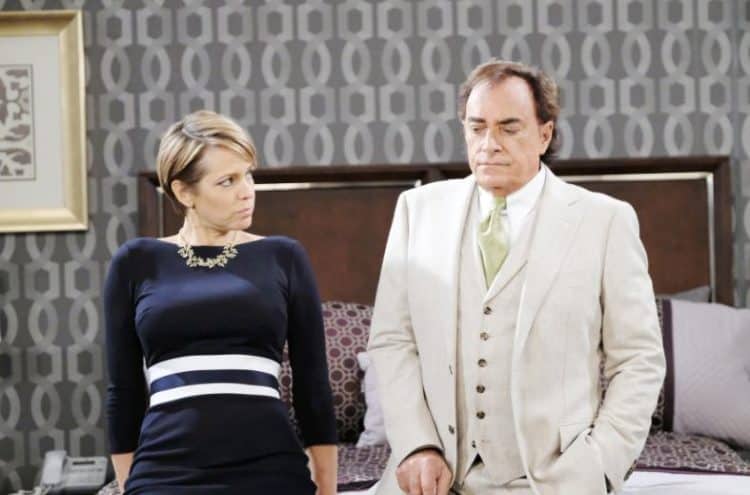 Days of Our Lives fans are not happy about many of the things that went down last week, but we get it. We get that some things are easier said than others. We get that some things are done better than others. We get that sometimes you just have to do things the way that they were meant to be done if you have any hope of things working out at all for you. But, Kristin is over the deep end of her personal issues, and she's taking that out on the people around her. She's caused more issues than she can handle. She's got more problems than she can count, and she's steadily making everyone miserable on a regular basis. She's interrupted a beautiful anniversary celebration for a beautiful couple, and she's making them all miserable as a result.
She's got Marlena by gunpoint, and she's threatening everyone who even thinks about getting in her way or handling her in a way she doesn't feel is appropriate. She's a mess, and we get that. But, she's not getting away with this. She's not. It's not something she can handle on her own, but it's also not something we think she can deal with if she is not careful. She's handling things very badly, and they will take her down. She's not going to get away with this, and we cannot help but wonder if there is anything we can do to make this right. She's got to get her life together, and they will take her down. But, we suspect she might just get away before they have a chance to make her pay. This could be very good news for the real Nicole, however, and it's good news for Eric. Brady, on the other hand, will be a wreck.
What's Happening on Days of Our Lives
We hung out with @galengering in his dressing room for the latest episode of Inside Salem. Oh, and did we mention @camilabanus stopped by?

Listen to the latest episode now: https://t.co/9vlZu5XJZ3 pic.twitter.com/t1Aa9joqo0

— Days of our Lives (@nbcdays) August 23, 2019
They are cute fake siblings.
What's Next on Days of Our Lives
John & Marlena's 33rd Anniversary Party takes some unexpected turns. Watch #DAYS, weekdays on NBC. pic.twitter.com/TPLnAvXvl0

— Days of our Lives (@nbcdays) August 16, 2019
Kristin is going to do some big bombshell dropping right now, and we don't know that she can continue to shock anyone more than she already has by simply being alive. Everyone in her life thought she was dead and gone. They had no idea she was living up in their lives every day for the past few months, and we cannot wait to see what she has to share with Brady as she keeps Marlena at the end of her gun and her mouth running sharing all her secrets. Will she tell him that the real Nicole is alive? Will she share with us that the baby did not die in the accident, but that the baby is off and safe and that all is well with Nicole and Eric? Will she share with him that she is pregnant? We have heard some rumors about that one, after all.
Will we get to see something else that there is more to this than meets the eye? If we had to guess what she is going to say to shock him, it's that the baby, Holly, did not die during that accident. No one knows this, but we suspect this is what she has to say and what she has to do, and what she will speak up about. We can see it happening, and we do hope it's true. We want to see so much more than she is giving us right now. And that's good news for Eric, but it's not for Brady. Though more could come out.
Stay tuned for more Days of Our Lives and be sure to check out TVOvermind daily for the latest Days of Our Lives spoilers, news, and updates.