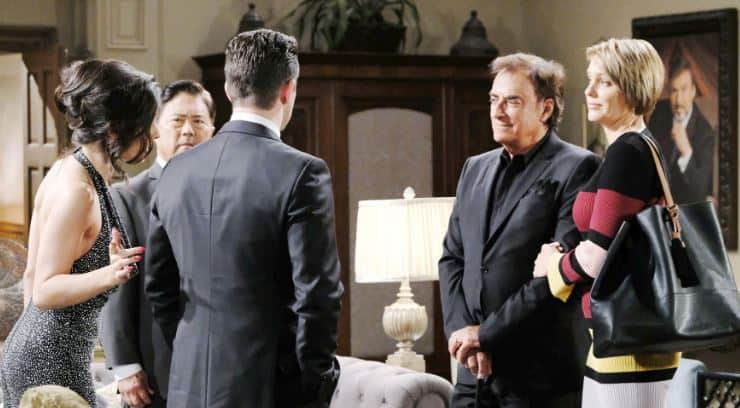 Days of Our Lives fans are beginning the week on a sad note. Tragedy has hit the life of Ted and his mean and evil doings. He thought it would be a wise and smart idea to take things into his own hands and try to control the way the world was working, and it did not go well for him. He tried to confront Kristin. He lied for her. He covered for her. He did what he could to make sure he did not blow her cover or make things difficult for her, but he's done playing her games. That, unfortunately, meant she was done with him, too. She'd already ordered him killed by Xander, who did not do what she asked. She just had to take matters into her own hands, and that just did not go well for him. It's too bad, too, because he was looking like someone we liked a lot better over the days.
He's gone. She did it, and now she has to cover her own tracks. He's already been missing one time, and she was blamed for it. Her stories aren't good ones, and she's not sure how many people know who she is at this point, and that's what is going to cause her to trip things up. Now that she's been blamed once for his disappearance when she thought he was dead, now he is gone and she has to cover that up. Can she do it? Can she make everyone believe she had nothing to do with this, but that she was capable of making things work in her own favor? Can she make this right in the world, or can she make things feel a little bit better than they are before she gets caught? We don't hold much hope for her.
What's Happening on Days of Our Lives
#ElaniAppreciationWeek has been fun! Thank you to all the fans for your support and love. We promise y'all got some good stuff coming! @SalStowers @nbcdays #Days #Elani ✌🏾 pic.twitter.com/PMfUGBjNdi

— Lamon Archey (@LamonArchey) August 3, 2019
They look like they are having a good time with this one.
What's Next on Days of Our Lives
Rex's wife left him for his brother, but things are much worse for Ted. Watch #DAYS, weekdays on @NBC. pic.twitter.com/XAGLk3LhRX

— Days of our Lives (@nbcdays) August 2, 2019
Kristin is currently not someone we can accuse of living her very best life. In fact, she's making some big mistakes in her life that will cost her more than she might be willing to pay. She's got a lot going on, and now that she has taken it upon herself to take care of Ted after he took it upon himself to confront her, she's got a lot happening. She's got to get rid of the evidence of what she did, but how does she do that without being caught? We assume she has a plan. She is Kristin, after all, but we also hear that she's going to get caught in the middle of her plan, and someone is going to find her getting rid of some key evidence.
Who might that be? And what will happen? Will it be someone who already knows what it is she is up to, or will it end up being someone who has no clue what she's up to and is going to go out of their own way to make sure she's unable to get her life in order? We aren't sure who will catch her, but we can assume that their act of catching her in the act of getting rid of evidence means that they are probably going to face some problems of their own along the way. We cannot say for certain, but we assume she's not about to let someone find her doing this and then just walk away, head home, and move on from things.
Stay tuned for more Days of Our Lives and be sure to check out TVOvermind daily for the latest Days of Our Lives spoilers, news, and updates.