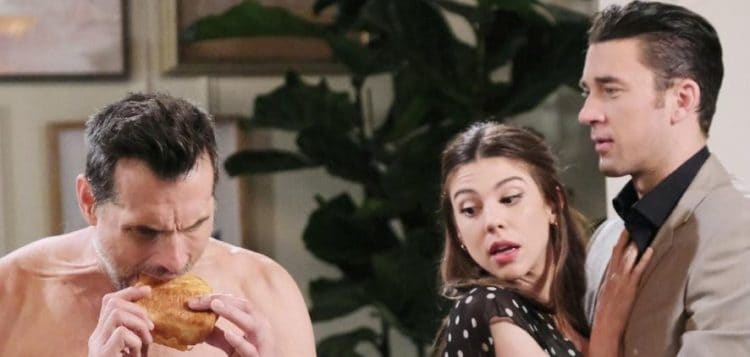 Days of Our Lives fans are shocked that John and Marlena are not going to get to celebrate their anniversary without some things going wrong. Their wedding went really wrong. Their honeymoon wasn't exactly where they thought they'd spend things, and their entire situation the past year has been a mess. So, who is surprised their anniversary might not be the day they thought it would be? Not us! We knew that things would not work out for them, and that's how it goes. We aren't surprised at all that things don't go the way they are meant to go, and there is that. But they are in the middle of a situation with Kristin, again, and no one saw it coming. No one was prepared for the secret that came out at the party. Well, a few people might not be all that surprised about things. Will and Gabi, for instance, might not be all that shocked.
Of course, the secret that comes out is that Kristin is not a shocker to us. It's actually a relief. Seeing people realize she is not Nicole has been good for us. It's been a relief to see things unfold in that manner, and we are glad to see that it's not a thing that is going to end poorly. We cannot handle her catching this situation from where it is at this point, and we get it. We know that there is nothing we can do to get them to stop her, but at least now they can start questioning what might have happened to the real Nicole. The one thing we don't see happening, though, is Eric forgiving Brady. This won't change the way he is feeling at all, and that's just how it is. But, we can see things unfolding a bit more.
What's Happening on Days of Our Lives
— Days of our Lives (@nbcdays) August 21, 2019
We do have to agree with this one.
What's Next on Days of Our Lives
John & Marlena's 33rd Anniversary Party takes some unexpected turns. Watch #DAYS, weekdays on NBC. pic.twitter.com/TPLnAvXvl0

— Days of our Lives (@nbcdays) August 16, 2019
So, is anyone surprised that Kristin showed up and caused issues with the many people in her life already? They thought she was dead. She came back wearing Nicole's face and trying to get things to work in her favor. But, there is nothing short of a huge issue that will make her life feel that much worse when she has a chance. She has to get her life together, but she's gotten desperate. That means she's making mistakes. Her latest mistake was interrupting the anniversary celebration of John and Marlena, which she seems to be very good at doing. Now she's beyond desperate to get away and work her life her own way again, but she's let her secret out of the bag. It's harder for people to find you and ruin your life when they all think you are dead. Now they know she is not, and she's going to pull a gun on Marlena. We have to hope this is as far as it goes.
She did ruin a lot of that poor woman's life last year, and we just don't know if we can handle seeing her ruin any more of that. She's a mess, and we know it. She's got to go. She's got to make some positive changes in her own life. She's got to take her situation and work it out, and she has to focus on things that don't mean much more to anyone else than they do to her. Here's hoping we get to go into the weekend with the knowledge that Marlena is just fine.
Stay tuned for more Days of Our Lives and be sure to check out TVOvermind daily for the latest Days of Our Lives spoilers, news, and updates.