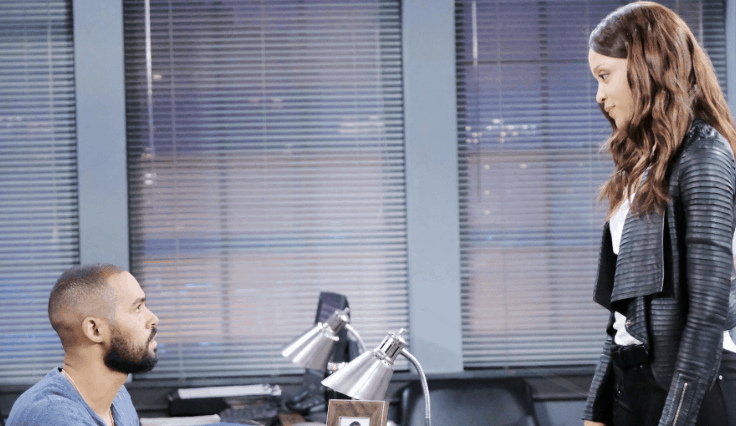 Days of Our Lives fans were not surprised to see how shocked Shawn was when his own daughter came to him with the confession she came to him with. He never thought she could turn into the kind of girl she turned into, and his heart is nothing short of completely crushed. He's a man who has a lot of stuff to deal with in his own life, and this is too much for him. He's sad, he's upset, and he's not sure he is living his life how he wants to live it. But, now he has to deal with his. He also has to decide whether to share this information with his wife now that she is in on things in their lives. He can do it, but what will it accomplish? Perhaps he can simply find some help for his daughter that might make things seem a little better than they are now.
Tripp and Ciara are busy trying to find a situation that will help Claire get caught. They want to see her trapped so that she will go down for all she did, and they are working hard on that. They have no idea what she's told her father, and they might not have much else to do other than sit here and wait for her to show up and go with the flow. But, what if Shawn decides to intervene? And what about Gabi and Stefan and their sudden romance? All they were before was just a casual fling, and now they seem to be sleeping together regularly in a way that seems like a relationship – but we are certain they don't even like one another. We aren't sure how to go and where to go from here, but this might be it for them.
What's Happening on Days of Our Lives
This was the sweetest #DAYS family reunion. ❤️
📸: @Ali_Sweeney pic.twitter.com/X8vUd76Tqq

— Days of our Lives (@nbcdays) June 26, 2019
We love photos like this one.
What's Next on Days of Our Lives
Ben, Ciara and Tripp hatch a plan to catch Claire in her lies – by making Claire very jealous. Watch #DAYS, weekdays on @NBC. pic.twitter.com/xwxjeNAJrE

— Days of our Lives (@nbcdays) June 21, 2019
There are so many secrets in Salem, and it's not unusual that someone is holding on to something that they know might change lives. Right now, Ben is holding on to what he feels is going on with Claire. He feels that he is not in the right place in his own life to say anything about what he feels and suspects is going on with her. He's just been released only a few months ago from a mental institution after going through a lot of stuff (like being a serial killer) and he's not sure it's his place to say a word about what is going on in his life. But, for now, he is going to open up to Marlena. She is a doctor, and she understands what he is going through and how he has lived his life. If anyone understands mental illness, it's Ben, and if anyone understands that, it's Marlena. Will he be honest with her, though?
What about Kristin? She's working hard to make sure that Hope cannot find Ted. Of course, she's still dressed as Nicole, and she believes that Xander killed Ted. Hope is looking for Ted, and Kristin is doing all she can to keep her from that. Xander did not kill his new friend, though, and they are hiding all this from Kristin, who will lose her mind should she ever find the truth. And, let's be honest, she will find the truth. There's too much going on here for anyone to deal with that doesn't work outside the box.
Stay tuned for more Days of Our Lives and be sure to check out TVOvermind daily for the latest Days of Our Lives spoilers, news, and updates.