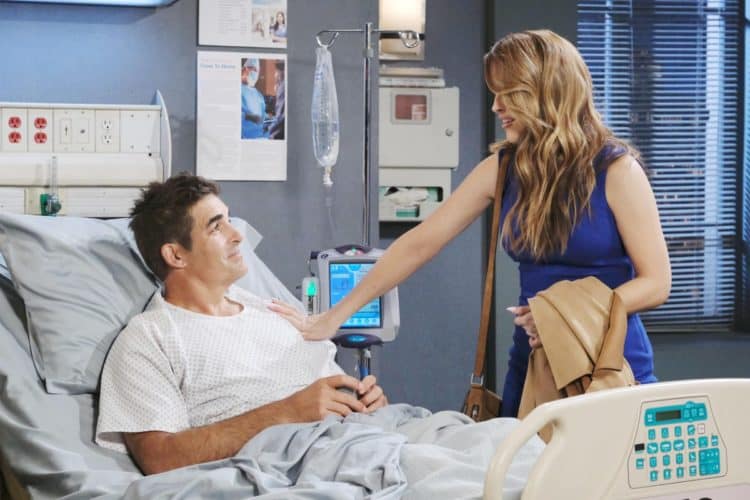 Days of Our Lives fans saw the beginning of some really horrible situations last week, and this week is going to prove very important in the grand scheme of things. There is so much we can't figure out, we don't know, and we are not sure of. We are not sure how to focus on what is outside of our realm of understanding, like what happened with Jordan and Rafe. He's helped her out, and she has taken a serious liking to him as a result. She's so upset that he ended up poisoned by her when it was Ciara she was trying to hurt the most. There's so much in her world that is not good in her life, that is not working for her, and that she cannot control. She doesn't like that, but she is crushed and horrified that her poor plan and her execution almost cost him his life. Will she back down now?
Hope is not herself, and we know why. But, the people in her life don't know why. They cannot figure it out. She can't recognize them. She's not herself. She's doing things that are not her, and they cannot seem to figure out what that means and why that is so, yet we can see it clearly. Will they figure it out? Will Xander continue to needle Nicole about Eric and Sarah and the feelings he had for her when he thought Nicole hated him? Will he make her want to tell him about the baby they both know that Sarah is carrying and that it's Eric's? Will they figure things out? Will Victor have Jordan killed? Will Ciara continue to think that Ben had anything to do with this? Will there be more information about Lani and Eli? We don't know.
What's Happening on Days of Our Lives
Elani is winning #Halloween so far! DAYS fans, how are you getting in the spirit today? 💙 https://t.co/TJt4epyaSB

— Days of our Lives (@nbcdays) October 31, 2019
It was good stuff, wasn't it?
What's Next on Days of Our Lives
Marlena drops by unexpectedly and catches Eric and Nicole in an intimate moment. Watch Days of our Lives, weekdays on NBC. pic.twitter.com/R4PKlOtfqC

— Days of our Lives (@nbcdays) October 11, 2019
Lani has to do something very important in her life, and it has to be done now. She's been given a chance to make her life different, and she has to be sure what she's going to do. She knows that Gabi will do anything she can to make things bad for Lani, and she's given her a lesson she will not forget. She will not allow her to marry Eli and leave things alone with her. She wants to know that Lani will leave him at the altar and not marry him. That's the only option. Will she do it, or will she risk his death or her death or the loss of everything she has ever loved in life? She has to make a decision, and we have a feeling that her decision is going to break our hearts.
John and Marlena will continue to worry about Hope, and so will many of the people who know and love her. She is clearly not all right, and she is not living her very best life right now. We know that there is more to this than people seem to realize, but that doesn't mean there is not going to be a time before people are able to figure it out. Will she be able to keep up this charade – or will her alter ego give this up before she has a chance to do what she is here to do? We know this is not happening for a reason, and we know that we will see more of this.
Stay tuned for more Days of Our Lives and be sure to check out TVOvermind daily for the latest Days of Our Lives spoilers, news, and updates.