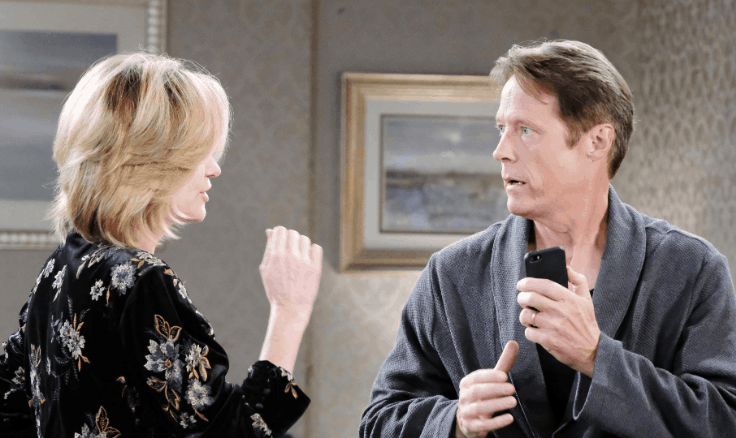 Days of Our Lives fans are always looking for the things to go awry, and it seems that they are in the moment. We are going to find that there are a few things happening around here when it comes to Jack and his moment of mayoral power. He's obviously getting to work if you couldn't tell, and he's not taking any hostages in his situation. He's in the middle of figuring out how to take over, and he is positive his way is the best way. We are not so sure about that, but it's time for us to sit back, take a break, and figure it out in our own way. He's going to make some bigger changes in the near future, but we had no idea he would go this route and take on this type of situation. We don't know why, though, we are surprised by any of this.
There is too much going on here for us to figure it all out, but we do think that there is something to be said for John and Marlena. They are going through all the evidence they can find to locate the diary that Rolf kept, and we cannot wait for them to find it. Will they find some answers when they do? Will this help with the situation that some people are in right now, such as Jack and his lack of memory? If they can find that, they might be able to figure things out on their own, and they might be able to make sure that he and Will are both all right, and that might make a big difference in the lives of others. What, though, would work for us would be if they could make Jennifer happy again by making this the case.
What's Happening on Days of Our Lives
ICYMI: @Ari_Zucker reflects on Nicole's evolution over the course of almost 20 years on #DAYS. Listen to the latest episode of Inside Salem now: https://t.co/9vlZu6fkQB pic.twitter.com/WZHvcHYevG

— Days of our Lives (@nbcdays) May 20, 2019
If you love her, you don't want to miss this.
What's Next on Days of Our Lives
Salem has a new police commissioner. Be afraid. Watch #DAYS, weekdays on NBC. pic.twitter.com/cACzKzqGRZ

— Days of our Lives (@nbcdays) May 17, 2019
Lani has a confession to make, and she's making it to Rafe. She has something to say, and there is nothing he can do to change the way she feels. She might tell him that she feels a connection to this baby and she'd like to keep him. His mother cannot care for him. He doesn't know who the father is, and he cannot care for this baby without someone else to help him, and his wife did just serve him with papers for a divorce. There is that. But, what else is there that might work out in their favor? We don't know, and we aren't sure how that will go at this point. For now, though, we do have to point out that we get to see the way things go for everyone else. They might not like the way it turns out if this is the confession she is going to make.
Meanwhile, fans are not all that thrilled about what is happening with Nicole. She's not really herself now that she is back from the dead, but who is? So many people in Salm have come back from the dead and been less than normal, and we get that. They are not always honest, but she had her memory when she came back. Still, though, she is not entirely herself. She's not someone who is making good decisions, she's not entirely rational, and she's not someone who is doing the right thing in any capacity. But, that's not really our problem at the moment.
Stay tuned for more Days of Our Lives and be sure to check out TVOvermind daily for the latest Days of Our Lives spoilers, news, and updates.