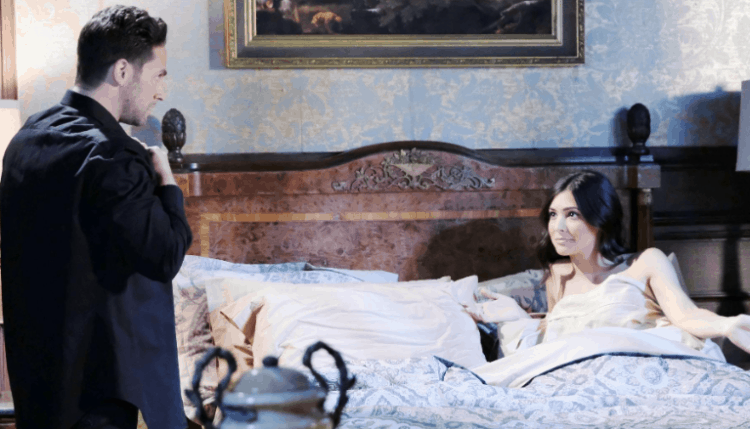 Days of Our Lives fans watched as Claire delivered the goods to Eve, and we wonder what she will do with this situation. What does she really want with this young woman and her life? What does she really want to accomplish and hope to get done in her life with this young woman who is clearly going through something in her life that is causing her to lash out at the people she loves and the people who are important to her? What does she want to accomplish with this? There is too much that she cannot handle in this situation, and we cannot sit back and watch her make this happen. She's a mess, and she has too much going on in her life to allow this to be the way she's living. But, Eve is not a nice woman at the end of the day, and she's going to use this young woman to get her way regardless.
Hope and Rafe have no chance of being married any longer. They've completely let things get out of control, and there is no way they are coming back from the implosion they are in the middle of right now. There is not a moment of chance they can get through this, make it through this, and get their lives and marriage back on track. She blames him for this because he defied her direct order. He blames her for getting too close to Ted. She's upset that he went and got Jordan's baby and wants to take care of him. And she's upset he is spending so much time with Lani because of the baby. At this point, there is not a chance they will make it, and we believe we just watched their marriage fall to the ground.
What's Happening on Days of Our Lives
Congratulations to our #DAYS @DaytimeEmmys winners! Salem wouldn't be the same without you. pic.twitter.com/Hj8xmortNS

— Days of our Lives (@nbcdays) May 6, 2019
We love this and all that it means for the show!
What's Next on Days of Our Lives
Nicole blames Eric for a tragic event. Watch #DAYS, weekdays on NBC. pic.twitter.com/IyshoSKQ5r

— Days of our Lives (@nbcdays) May 3, 2019
Xander is controlling all that Nicole has in her life. He is the main reason that her life turned out the way that it did, and the reason that her baby is dead. Even if she's not sure what happened yet, she knows what happened. And now she is living this life of turmoil, and she's not had a break from that kind of turmoil in months. But, he is about to walk in on her and Brady, and he will not like it. She's already fallen apart and blamed Eric for her problems, and now she is being comforted by Brady. They both love other people, but they also have a history with one another. They are both hurt and upset by the others in their lives, and this is one of those things that will probably turn into something that it should not. It also puts Brady on Xander's radar as someone to destroy, which we do not think he can handle.
There is nothing that will ever make Maggie feel good about her life again now that this little one is taken from her and her family. We knew a few weeks ago that the turn of events this week would lead someone to want to drink – someone who should not drink. And now we know that it is not Eric, as we previously thought it might be. It's Maggie, and we only hope that she does not allow herself to go down that dark, lonely, horrible road. She is clearly in mourning, and no one can blame her for that.
Stay tuned for more Days of Our Lives and be sure to check out TVOvermind daily for the latest Days of Our Lives spoilers, news, and updates.