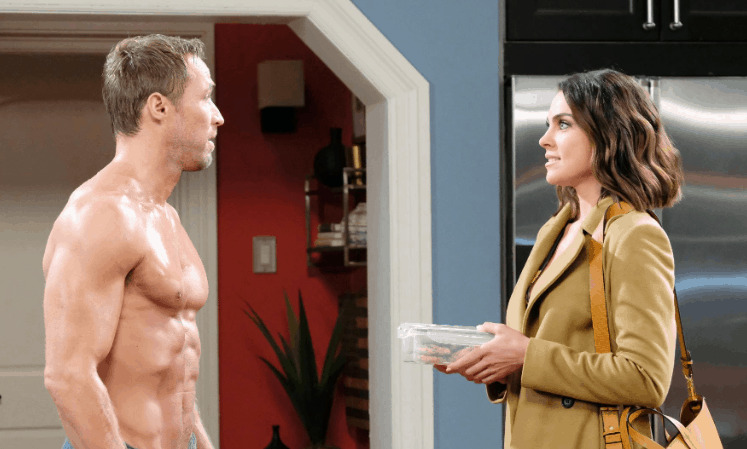 Days of Our Lives fans rarely get through a full week without ample drama and confusion, and last week was no different than any other. First and foremost, we are all in shock that no one seems to realize that few people around here are who they say they are. Kristin might be wearing a mask that looks like Nicole's face and tricking everyone into believing she is Nicole, but she's not the only person in Salem pretending to be someone she is not. Ted is working hard to convince Hope that he is the man for her, and she is falling for his lies all the time. He's not a good person, and he certainly does not have her best interests at heart. He's lying about most everything in his life, and we get it. We get that he is a horrible person. He's not who he says he is, but no one else seems to get that.
Then there is Eve, who continues to try and make Jennifer miserable in her ugly ways. It's not going to work for her in the long run, but she doesn't seem to see that as a possibility in her own life. She's struggling to keep it together, but we get that she has more to do than sit back and allow this woman to continue her games. Xander is also pretending to be someone who he is not. He's working so hard on making sure he can get Sarah to further fall for him, and he's pretending to be a hero. He's a kidnapper, a murderer, a con artist and any other negative thing you can think to say about a man who does horrible things to people who don't deserve this treatment. The con is about to be up for many of them.
What's Happening on Days of Our Lives
Look who stopped by Inside Salem to spill all of Jack's secrets. Matthew Ashford breaks down his role in the latest #DAYS drama.

Listen to the latest episode of Inside Salem: https://t.co/9vlZu5XJZ3 pic.twitter.com/XftqL9xjW2

— Days of our Lives (@nbcdays) June 14, 2019
We can't wait to hear all his secrets about what's going on around Salem.
What's Next on Days of Our Lives
Soak up the Summer Days. Watch #DAYS, weekdays on NBC. pic.twitter.com/IBHxJcIiQv

— Days of our Lives (@nbcdays) June 5, 2019
It's a big day around here, and the rest of the week is going to turn out to be just the same. There's a wedding happening, and it's not that big of a deal. No, it's a huge deal. It's the biggest deal. Sonny and Will have decided it's time for them to get married. We've seen Sonny have his own fair share of weddings recently, but this is the one we love and want to see the most of. We want to see him take on this role as the man who is going to love Will, protect him, and try to make his life as good as he can. They were to good together in the past. They have this second chance, and we love that they are taking it. It's all we want. It's a sweet day, and we almost feel that nothing will happen to take away from that, either.
Then there is the fact that we think Maggie is going to find her strength and get to the bottom of a few things. She might be in turmoil right now, but she's also not sure why Xander lied to her. She's not afraid of him, but she is also not happy with him in the moment. She's going to question all the things that he is doing to her right now, and he is going to feel as if he's been put under the microscope. Will he be honest with her this time around, or will he continue to lie?
Stay tuned for more Days of Our Lives and be sure to check out TVOvermind daily for the latest Days of Our Lives spoilers, news, and updates.