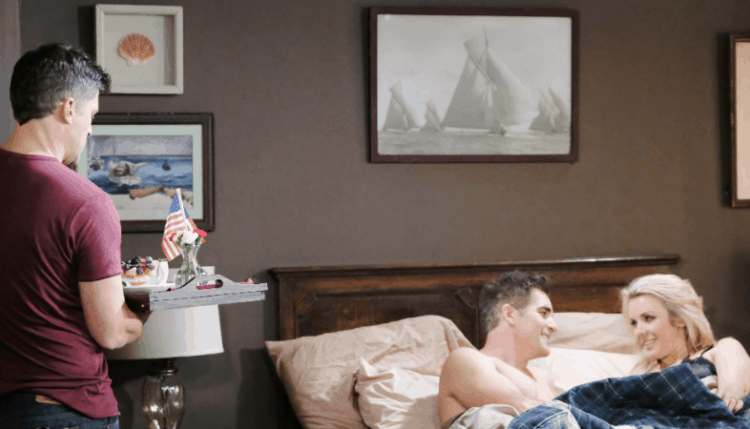 Days of Our Lives fans watched as a big party unfolded, though we are not quite sure we would call it the party of the year. There was a lot that happened, but it wasn't the kind of stuff that makes you wonder if you will ever find happiness again in life. It's the kind of stuff that makes you wonder if there is a chance anyone will ever be the same again. You have a young girl who is suffering from some serious mental illness, and there is a grown woman who was perfectly aware of that. She used this girl to get what she wanted out of her, and she's got a lot of people mad at her. But, Eve is accustomed to that. She's always got people mad at her. She's always got someone who is unhappy with her, not thrilled with her way of life, and someone who questions all of her decisions. She is a mess.
Then you have a couple who doesn't really have much going for them. Sarah wanted to be with Eric, but that did not work out for her. So, now she's married to Rex, and they are trying to have a happy life and a happy family and a future. She's not entirely involved in that, however, and it's not her thing. She's got so much hurt in her heart right now, and we aren't sure she can get over that or make it work in her favor. She's got a lot happening, and we aren't sure it's good news for her. She's a woman who might not be able to make it through this without some big time issues. But, for now, she's just trying to make it through this party.
What's Happening on Days of Our Lives
https://twitter.com/Days_FrizFan/status/1146466867718119426?ref_src=twsrc%5Etfw
What she said.
What's Next on Days of Our Lives
This year, the big fireworks are in daytime. Watch #DAYS, weekdays on @NBC. pic.twitter.com/nMcPY6UIyk

— Days of our Lives (@nbcdays) June 28, 2019
Ted and Kate are about to find themselves in a situation that is not what they saw coming, and that is not something we saw coming, either. He's been hot for Hope for a long enough time that she was willing to throw away her marriage to Rafe in part because of Ted, but it seems that he's not as into her as she might be into him. Kate knows he is alive, and she knows that Hope is looking for him, yet she is going to allow things to happen between herself and Ted, and she's going to be fine with that in all the ways that matter to her. She's got a lot on her plate right now, and we cannot figure out what she feels is the right thing to do.
Then there is Nicole and Gabi. They are not working well together, and that's probably because she's not Nicole. She's still Kristin, and Gabi unaware of that. She's not a fan of Nicole in this light, but they have to find a way to work nicely together if they want to see their plans go where they are going. But, we don't know that they will do that, or that they have it in them at this point in time. They are not the kind of people who like to work with others, and they are not the kind of people – at all – who like to play well with others. For now, though, it remains to be seen how this one will play out and what it might mean.
Stay tuned for more Days of Our Lives and be sure to check out TVOvermind daily for the latest Days of Our Lives spoilers, news, and updates.