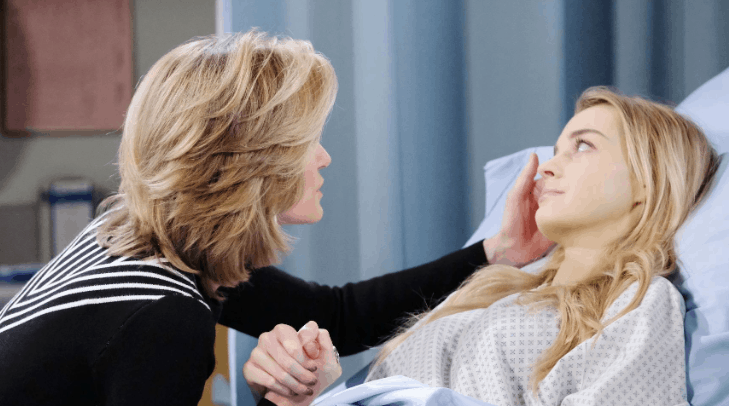 Days of Our Lives fans know that Ted made it his mission to come clean to Kate, and we aren't sure how she is feeling about all he had to say about his life and how he ended up where he is. He's not a man who likes to focus on anything other than the way he is right now, but we also know that he's been in the middle of some pretty traumatic stuff in the past few weeks. He's had some moments of clarity, but he's also been close to death, saved only because he decided to bond with Xander rather than make him yet another enemy. He's also making things right with Hope after spending months working on breaking up her marriage — which he somehow managed to do. Though, we feel this was an indirect situation that did not occur the way that he felt it would.
There is also a situation in which we know things will turn out for the best with Ben and Ciara. They might need some time to process all that is going on in their lives, but he is not someone who is going to let this change his mind about her. He's had a long and rough go of things with Claire at the helm of his life for so long now. She's been using him, making him look bad, and allowing him to become a bad person in the eyes of so many simply so that she could get her life together and find out how she could win. There is nothing we cannot handle, but this was almost too much for us. There is something to be said for this situation unfolding the way that it did, but this is not going to upset us more than it already has. We are going to get through this.
What's Happening on Days of Our Lives
Always a special time when Andre is with Kate. They know a good deal when they see but those nails, a weapon. Have some good scenes coming up, but where does it all go? Magic times. #love #rivals #Days #NBC #mystery #deception #faith #romance #burbank ⁦@laurenkoslow⁩ xxx pic.twitter.com/6JJpj8pTbS

— Thaao Penghlis (@ThaaoPenghlis) July 8, 2019
Um, anyone else wonder what's going on here?
What's Next on Days of Our Lives
They take their relationship from office fling to the real thing. Watch #DAYS, weekdays on @NBC. pic.twitter.com/G6kLHRKzIw

— Days of our Lives (@nbcdays) July 5, 2019
Nicole is not a happy girl, and she's going to make that quite obvious when she attacks someone today. It seems that everyone in her life is making her miserable in the moment, and we think that's because she's not really Nicole. Nicole, mostly, gets along with everyone and has little problem dealing with thing that set her off. However, Kristin, the woman posing as Nicole, has no patience, and she has no ability to get her life in order. She is a mess, and she is not going to handle things to the best of her ability unless she can figure them out on her own. She's got so much to handle, and there is nothing we can do but sit back, relax, and watch her lose her mind and make it obvious to everyone that she's not who she says she is.
Then there is Hope, who is not happy with Eve. She's taking her own turn ripping into Eve about this situation with Claire, but Hope has herself to blame, too. She didn't do the best job keeping tabs on her own granddaughter, and she was very much aware of the horrible relationship her own daughter had with her niece. She is to blame, too. Sarah is going to find Maggie in a moment that is not flattering to her, and we hope that she can see this is a woman who needs some serious help. She does, and we hope that she can find it in her life and in her heart to make this woman happy and healthier.
Stay tuned for more Days of Our Lives and be sure to check out TVOvermind daily for the latest Days of Our Lives spoilers, news, and updates.