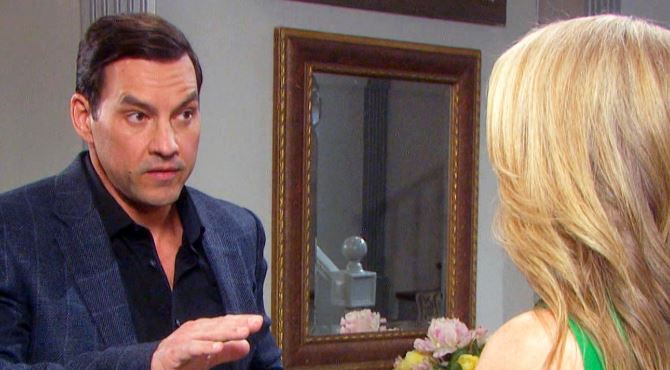 Days of Our Lives fans are not surprised to see that things are going down the way that they are. There is so much that we can't control, and so much we want to help with, but we can't just do much more than sit back and enjoy the show as it goes on. Sami and Eric did something very dangerous. They took the time to sit back and share their feelings about Xander and all that is going on with him, and now they are in trouble. They have to find a way to get out of his warehouse and find information that can help them before it's too late. They put themselves in a dark situation for a reason that they cannot really define other than they want to find out what is happening with EJ and what's going on with Nicole. Things are already very ugly now that Eric and Nicole have found the time to be intimate with one another even though she's a married woman.
And now he and Sami have to find a way to get out of there and make it right. They have to do it, too, before they get Nicole in trouble. She and her baby have a lot going on, and they have to make sure that they can get out of this. This is not the situation they thought they'd find themselves in as they were in this part of their lives, but Xander's life has been something of a mystery to us for a while. He's taken her, he's married her, and he's made her do things she didn't want to do for the sake of saving herself and the people she loves the most. And she won't sacrifice that if it means losing someone she loves more.
What's Happening on Days of Our Lives
Which is the good cop and which is the bad? #DAYS pic.twitter.com/5zgiN8Cvv8

— Days of our Lives (@nbcdays) October 17, 2018
Who doesn't love a game of good cop, bad cop? Well, we don't love it when it comes to them and their love being on the line, but we do hope that there is a chance they can figure out a way to make this work and to be together for the rest of their lives. They are just that good together, and we think fans agree with our feelings.
What's Next on Days of Our Lives
She's made him believe he can be good again – how could Ben not fall for Ciara? Watch #DAYS, weekdays on NBC. pic.twitter.com/UVbfqiqnam

— Days of our Lives (@nbcdays) October 13, 2018
This exciting week is going to end on a high note, and it will begin when Nicole finally decides she has to get away from Xander. She's going to escape, and we can say with some certainty that this might not go well for anyone involved. She will escape, but she will find out something that she didn't even know was a reality. During her escape, she's going to come across something that will change life as she knows it. This secret is a big one, and it can change the game and the way everyone is living their lives. Can she get out with this secret, or will he find her before she has a chance to share it with anyone else? She will be in danger, because he's not about to let her go without a fight. However, there is a chance that she can get out and make sure this gets out before it's too late. But we don't know for certain.
We do know that things will be very upsetting for someone, and we also know that Rex Brady is making his big comeback today. He's going to show up and make a few people feel a little nervous and uncertain about what their life is turning into and what they have to deal with. We know that things will turn out for the best for them, but we also know that this could be a long road for everyone involved. Will they get through this, or will someone lose their life as they work on it?
Stay tuned for more Days of Our Lives and be sure to check out TVOvermind daily for the latest Days of Our Lives spoilers, news, and updates.