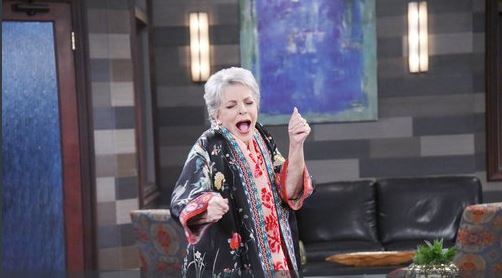 Days of Our Lives fans are always excited to try new things, but what happens when new things are nothing more than a sham? What happens when new things are a bad idea for just about everyone? A lot of new things happened this year we didn't see coming, so that makes us wonder what else will happen. Jack was a new thing. His marriage to Eve was a new thing. Nicole being Kristin in a mask while Nicole is miserable and alone is a new thing. Hope deciding Ted was worth her time with his sexy voice and his mysterious ways was a new thing. None of those things worked out or are working out for any one of the people going through them. But, we know that there is something we can look forward to. That's Anna's announcement. She's making some changes in her life, and she's going to do it whether it works for anyone or not. But, will it crash down around here? Probably.
Another mystery is Jack. Will he ever forgive Jennifer for her part in writing the article that he feels makes him look awful and terrible and all the things unflattering? Let us remember he basically did this to himself when he agreed to become the kind of man who makes poor choices like marrying Eve and not getting his memory back. But, they belong together. They know that, too. She knows that even if he needs a little more time figuring it out. But, there's a lot to take in, a lot to handle, and a lot to worry about. Can we make this a real thing, or will we need to keep our situation to ourselves and focus on things that work for us more so than work against us? We are not sure.
What's Happening on Days of Our Lives
We've got a new DiMera in Salem. 💍 | 📷: @camilabanus pic.twitter.com/6MqUQ7aXjc

— Days of our Lives (@nbcdays) August 14, 2019
This might be our favorite set of wedding photos, ever.
What's Next on Days of Our Lives
Anna has a dramatic message for Tony, and Ben and Ciara overhear something they shouldn't. Watch #DAYS, weekdays on @NBC. pic.twitter.com/yjZ94Utnwy

— Days of our Lives (@nbcdays) August 9, 2019
Who else is tired of watching fake Nicole have a terrible and ugly encounter with everyone she runs into in Salem? We have to be a little bit hones there, and we have to tell you that we are over it. We are done with it. We are over it, done with it, and not having another moment of it. It's not something we want to see, do, or encounter. It's a situation we are living in at the moment. It's not something we want to see continue. She's about to have another showdown with Gabi, which is not news. They hate one another, and we are tired of watching this happen. Can we please just see someone who knows she is alive tell someone else that she is alive, and yes, we are talking about Kristin. We are so over this. It's becoming old news, boring news, and so much of a tedious situation.
Of course, we know that she might not be involved in another showdown eventually, but she's caused it. She's not Nicole, but Brady does not know that. He doesn't know she's not who she says she is, she's not the person who is that person. This is too much for them, and he's going to have to consider what to do about his brother. The one, if you remember, is madly in love with her and wants to be with her more than anything? Eric and Brady have come so far since Nicole broke their brotherhood apart, and here it is again.
Stay tuned for more Days of Our Lives and be sure to check out TVOvermind daily for the latest Days of Our Lives spoilers, news, and updates.