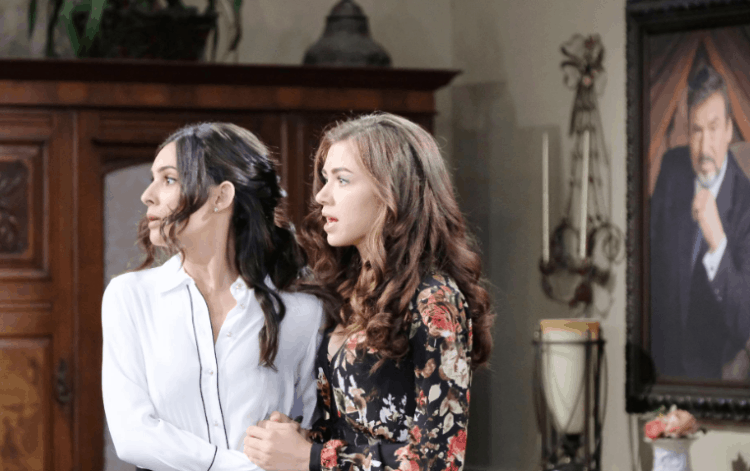 Days of Our Lives fans are not happy with the way some things are going right now. Some people are really enjoying the cartel storyline while others are not enjoying it as much as others. The point, however, is that there are plenty of people who are going to take their information and go with it the way that they choose to. There is a lot happening, and we can get on board with that. Chloe found Gabi's button, and she's suspicious. She's not happy with what she's found, with what it might mean, and with what it might imply for her. She likes Stefan, and she really thought that they had something with one another. However, it doesn't appear that this might be the total truth in their lives. They might not have nearly as much as they think they do, but they might also have less to give to one another than anything else.
Meanwhile, we know that Sarah has come to Eric and asked him about his feelings for her. Are they true and real? Are they actual? Does he mean what he says? Does he have any idea what to do and how to make it happen? Is there a chance that he can get this to work in his situation? Does he really want to be with her enough for her to leave behind the man she is marrying to be with him, or is there more to this than we think? We are not entirely convinced that she will make the right choice in this situation, but we also know that there might be a bit more that will come into her life than she is anticipating, and we have a feeling it will happen sooner rather than later if she leaves her fiancé behind.
What's Happening on Days of Our Lives
In the latest #DAYS, Eric confides in Sarah his regrets about Nicole.https://t.co/ZsCmioRrzb pic.twitter.com/I6ht87xrzf

— Days of our Lives (@nbcdays) April 18, 2019
But, will he have another chance to make that situation better now that she is coming back?
What's Next on Days of Our Lives
Two #DAYS couples have very different first-time experiences. Watch Days of our Lives, weekdays on NBC. pic.twitter.com/oepVaNfxhu

— Days of our Lives (@nbcdays) April 19, 2019
You guys. Today, something is going to happen and it's going to throw everyone off their game for good. We've been saying that there is a good chance that Sarah is nothing but a rebound for Eric as he is getting over the death of Nicole, and we are right. We just know it. He need someone to love following her death, and we are watching him as he overcomes his pain in her. But now he has no reason to use her anymore even if he has no idea that is what he is doing. He has a chance to see his life change, and it's about to when Nicole shows up in Salem. But, we have to wonder if she is alive and well, if she is a ghost there to haunt them, or if she shows up in nothing more than a dream or a memory?
We don't know. That's the thing. There are many rumors that are circulating, but we have no facts about what she is doing there, what her life is like, and what she has to offer. She's not a woman who is living her best life in any way, but we do know that she's living her life for at least this day, and it will not mean anything good for Sarah. Is it too late for her to get what she wants in her life, because we are certain Eric will not want Sarah if he sees Nicole.
Stay tuned for more Days of Our Lives and be sure to check out TVOvermind daily for the latest Days of Our Lives spoilers, news, and updates.