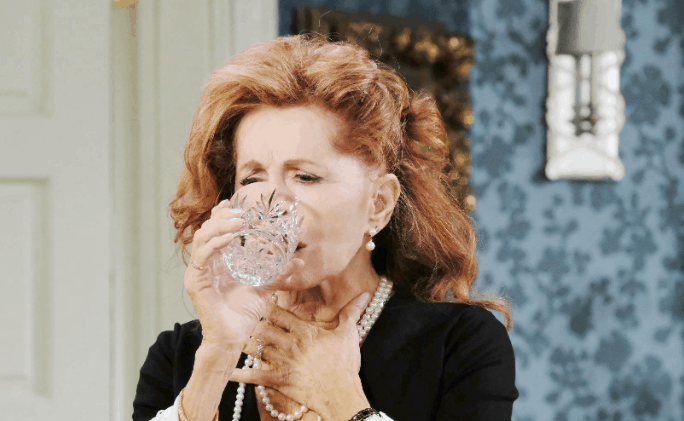 Days of Our Lives fans know that Rex spent a long time working with Rolf, but can he find anything from his notes that might help them get through the current situation the people of Salem are living? There is a lot of question about whether they will find something that might be useful, and we kind of think that they might find at least a little bit of something. There is no way that they can go through this entire situation and not have enough to go on, but we are hopeful that they find it sooner rather than later. Rex has to work hard because he has to put a stop to what is going on with Jack and all the other people suffering from his situation. He's on a rampage, and it's not good news for anyone who is living and working in Salem right now. He needs to be stopped.
Maggie is not happy with Kate, and she's decided to show her for herself. She's drunk, and everyone knows that she cannot be drunk. But, she is, and she's not happy to have found Kate having a moment with her own husband, and she's showing her that she needs to stay away from Victor and get her life together. She's not having this woman around her husband, and she's showing down with Kate. We know she's not that interested in Victor, but things will not work out in her favor if she's not able to use him to get what she needs and what she wants, but things never seem to work for her. She's fallen off the wagon, and her friends and family are all worried and scared for her, but there is not going to be an easy way for her to get through this.
What's Happening on Days of Our Lives
https://twitter.com/nbcdays/status/1133447897880702977?ref_src=twsrc%5Etfw
Stop it. This is our favorite.
What's Next on Days of Our Lives
Kristen goes to extreme lengths to win Brady back. Watch #DAYS, weekdays on NBC. pic.twitter.com/qQkvUyJ3QH

— Days of our Lives (@nbcdays) May 24, 2019
Eve is happy with the way things are going in her own life. She's managed to get her husband hired for the job of mayor even though he is not a man who is going to have much in his world other than a mess to clean up when things work out in his own favor. Things are not his situation right now, but he is also working so diligently to figure this out on his own accord. However, we are also going to see her live her life with some ways that make more sense of things than we can imagine. She's got a lot on her plate, but we also know that things are going to cause her to share a secret with him. She's got a lot going on, and she's not going to sit back and let that go. She's absolutely sharing her information with him.
Then there is a huge situation with Nicole that we cannot even fathom. She's not Nicole. She is Kristen, and she is working her best way to make everyone miserable. It turns out that Nicole did not come back from the dead with Xander. She is playing this role of this woman without anyone else bothering with her, and it's all a mess in every possible situation. There is a lot that we cannot handle right now, and it all comes down to the fact that they cannot handle this situation without someone else being hurt and someone else being a mess. There's too much going on.
Stay tuned for more Days of Our Lives and be sure to check out TVOvermind daily for the latest Days of Our Lives spoilers, news, and updates.