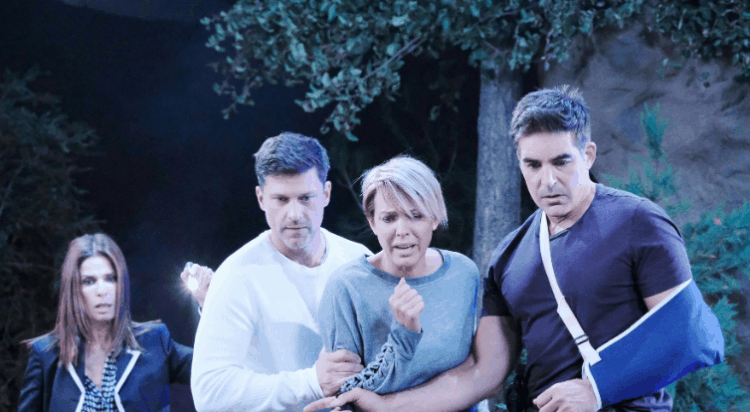 Days of Our Lives fans are not happy. There is so much happening that has us feeling sad and as if there is nothing we can do to make it stop. We are so heartbroken to hear that there has been a death in Salem, and we are even more heartbroken to hear that this death is a small child. Nothing hurts so much as to see the end of a life lost when that life is a but a baby. However, little Holly is gone. She was in the van that crashed and exploded, and this is all on the shoulders of Xander and Ted, and it will not take much longer before everyone realizes that Ted is involved in this mess. He is not a man who has a good reputation, which is why we've all been so upset by his sudden closeness to Hope. Is he only using her, or are any of his feelings for her real?
We are even more horrified that Chloe learned of this news as it was delivered by Ben and Ciara. This young couple had to tell her that the baby she gave birth to and has been raising for her 'dead' friend is now gone. She is already upset because of the kidnapping, but she was so sure they would get this little girl back. Now she is gone forever, and she feels responsible for this. If only she'd not be in the mansion when the baby was taken. If only she'd not been spending this time with Stefan. If only she'd been in a new place, living a new life, being with a new person, and letting Brady be the one she turned to. This is horrible, and her grief is undeniable. Can she even come back from this?
What's Happening on Days of Our Lives
Our #DAYS family sure knows how to work the red carpet. | 📷: @victoriakonefal @SalStowers @oliviakeegann pic.twitter.com/f02JiGMXR6

— Days of our Lives (@nbcdays) May 8, 2019
They are for sure working the red carpet!
What's Next on Days of Our Lives
Nicole blames Eric for a tragic event. Watch #DAYS, weekdays on NBC. pic.twitter.com/IyshoSKQ5r

— Days of our Lives (@nbcdays) May 3, 2019
Claire has something for Eve, and we are all still in shock that this young woman is willing to do this kind of work for Eve. She knows she is not a good person, and Eve is loving that she's got this naïve young woman to do all this dirty work for her. She didn't do what she was supposed to do to make things impossible for Tripp and Haley, and she still wants to do her bidding? That doesn't make much sense to us, but we can see how it will play into the fact that something is eventually going to happen to Claire. We only say that because the actress who is playing the character is on her way out, so there is no telling what might happen to Claire in the meantime. She could die. She could run away. She could be run out of town by someone else. It's all playing out right now.
Nicole's heart hurts more than anything else in the world, and she's placing blame in all the wrong places. And she's turned to Brady for some comfort. If you remember from before she was dead and her life was a total wreck, she had a hard time making it work with Eric. She loves him most, but she's always looking for love in the all the wrong places if it means that she can get a little more in her own life than what she is doing and what she is getting. It's all ugly, and it's all the time.
Stay tuned for more Days of Our Lives and be sure to check out TVOvermind daily for the latest Days of Our Lives spoilers, news, and updates.