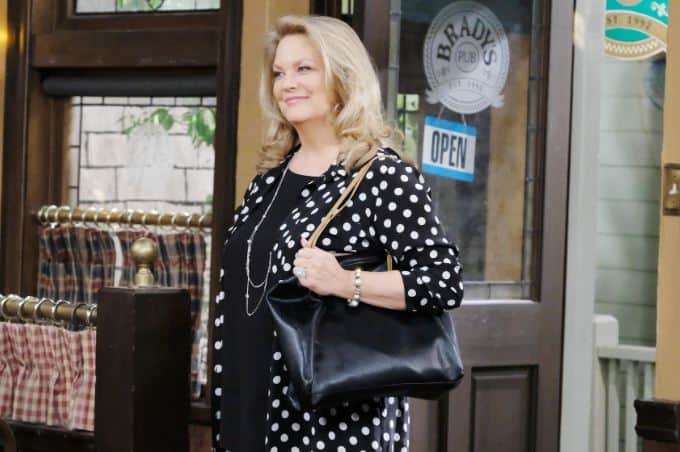 Days of Our Lives fans are so excited to see John and Marlena living such a happy life. They are both trying so hard to be kind and loving and good to one another, and we can see that it is working out well for them. They are the kind of couple who likes to spend their time focused on things like the way they look at one another and the way they feel about one another and the way they work with one another. They are both trying to surprise the other with the same thing, and it's the cutest thing we've ever seen. The moment they realize this is happening is going to be a beautiful moment in which we all feel good and happy about the way life is going. But, for now, we do have to focus on a few other things in the meantime. One of those things, for example, is the fact that we have to love them.
The other is the fact that we know so many people are struggling. We saw Chad and Abby in Paris living what is not their best life. They are not sure what is going on with them, but it seems to us that there is a rift between them and they aren't in a good place. They seem to have some problems they cannot communicate with one another, and they seem to have a problem with the way the other is living. He's jealous. She's not sure what is going on, and no one can figure out how to help them. It is all part of their plan to come home and make their way back to who they know and what they know, but we can probably predict that coming home will not be the best thing that ever happened to them.
What's Happening on Days of Our Lives
And she stay calling ME goofy. Lol! #days pic.twitter.com/LNRRgShRIL

— Lamon Archey (@LamonArchey) August 12, 2019
This is too good not to share.
What's Next on Days of Our Lives
Anna has a dramatic message for Tony, and Ben and Ciara overhear something they shouldn't. Watch #DAYS, weekdays on @NBC. pic.twitter.com/yjZ94Utnwy

— Days of our Lives (@nbcdays) August 9, 2019
Nicole, who is still really not actually Nicole, is a problem for everyone. She's got issues she has to work out. She's got problems she has to deal with. She's got a life she has to live and a situation she has to figure out how to control, and she's got to do it all right now. She's not living her very best life at this specific moment in time, but she is living a life in which she can handle things a bit more accordingly when she puts her mind to it. She's not living so much as she is focusing on getting a life she wants to live by using a person who is not herself to do it. But, things might be looking up for her in a moment, but not until after she and Marlena are not going to have a good interaction today, and that's because she's a mess.
Nicole is going to lose her cool with Marlena, which we can all agree is not really something she's used to doing. She's not that kind of woman. She is not that kind of problem for anyone, but here she is working on that without much else in her mind and on her plate. She's got more than she can handle on her plate right now, and we get that. But, we also get that she's a mess who cannot get it together. It will be an interesting fight, and we feel certain that it's one that Marlena will probably win when it comes down to it.
Stay tuned for more Days of Our Lives and be sure to check out TVOvermind daily for the latest Days of Our Lives spoilers, news, and updates.