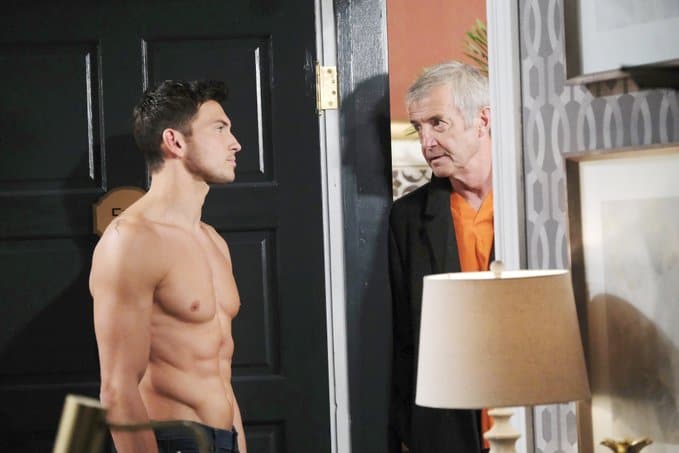 Days of Our Lives fans are walking into the new week like, "Wait, it's a new week?" because we all inside and doing nothing, going nowhere, and not living our best lives, so we just don't even know what day it is. But, now that you all know it's Monday and you can see where you're going from here (nowhere, guys. We are going nowhere) we can at least talk about what happened on Days last week. It was a lot. Let's see. Um, a dead man showed up at Nicole's door. And then Eric realized she's a liar and that she's hiding a lot from him on the quest to find out the truth about his baby. She's already gotten Raynor to talk, and now Eric is mad. He's so mad he hunted down Abe to find out what is going on, and that is just the tip of the iceberg. You see, other things are happening.
For one, Clyde escaped from jail. Ben and Ciara are back together, but we are pretty sure that there is something going on that will ruin that, and then there is what is happening with Brady. He noticed that baby Mickey has the same birth mark as his own deceased daughter, and this cannot be a coincidence. It won't take him that much longer to do some basic math and start asking some questions that might give him more questions than answers. For example, his baby was born at the same time as this baby, and is there even a small chance this might be something he can find out? Is there even a small chance his own baby is alive and well and we can all see it for ourselves around here? What is happening right now? It's a lot to take in.
What's Happening on Days of Our Lives
I miss our sushi!!! ❤️❤️❤️ https://t.co/fw9qcexyqX

— Arianne Zucker (@Ari_Zucker) March 20, 2020
Everyone misses normal.
What's Next on Days of Our Lives
Endless love abounds in Salem as couples reunite and commit to each other. Watch #DAYS, weekdays on @NBC. pic.twitter.com/S8LVPQOmss

— Days of our Lives (@nbcdays) March 27, 2020
It's here. The day that Nicole has to tell Eric the truth about his daughter is here. She has the proof she needs to know she is not wrong and that this is never going to work, and there is so much else that might happen here. She's dealing with things that are often painful and difficult, and he has to know the truth. She has to tell him that he is not a father, but that he was for a moment before his own baby girl died at birth. The fact that he never got to meet her and will never get to meet her might be something that he cannot ever forgive Nicole and Sarah for keeping from him at all. This might be the lowest and worst moment of his life. He will never forgive either of them for this. It's going to be an ugly day.
Meanwhile, this also means that there are three more people who will very likely find out the truth about this right now. Unless, in some twisted situation, Eric decides he's keeping this baby girl as his own and doesn't want to share the truth with anyone else. He might do that, and we can be that Nicole might just go along with this to give him what he wants and to keep him happy with all of it. It's a lot to process all at once, so we might not see this happen right away this week. It might take a few days, to be clear.
Stay tuned for more Days of Our Lives and be sure to check out TVOvermind daily for the latest Days of Our Lives spoilers, news, and updates.