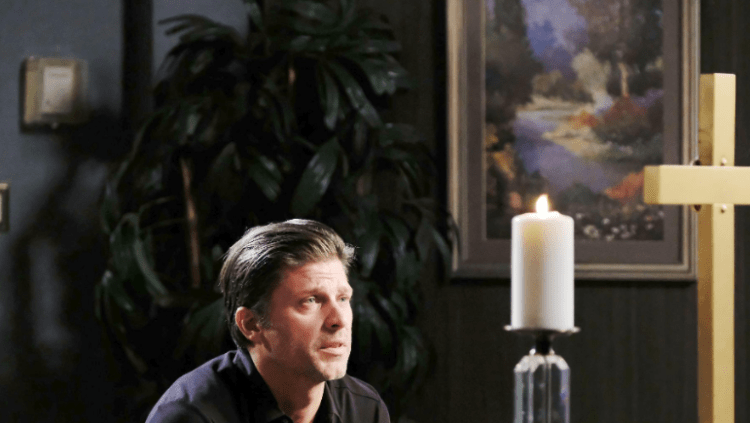 Days of Our Lives fans were shocked when Ben and Ciara were in the middle of what appeared to sound like a gunfight in the DiMera mansion. They are not ready to take on any more trauma in their lives after what happened when Ciara was recently kidnapped and their lives were thrown into serious turmoil, yet they find themselves in yet another situation where the same thing is happening. Maybe this is the sign they both need that it is not Ben or them in particular that causes the problems they are afraid the bring on when they are together. But, we don't know if they will get to that point. Ben will probably continue to think that he is the problem and that things are not working his favor, and that will cause more problems than almost anything else we can think of.
Furthermore, we also though that Claire might be able to talk her way out of things with Tripp, but we've learned that he suspects she's been lying to him for a long time. Just when we thought she might be able to find her way back in, she's been able to get him to believe she's a liar and a bad person – and he is not wrong. We are not sure he will ever forgive her for some of the things she's done at this point, and we get it. We believe that it's true, and we think that she's going to end up in more trouble than she can deal with at this point. For now, though, we need to focus on the fact that there is a lot more going on than we can deal with. For one, we have to realize that Haley is in trouble, and that means JJ might have to step up.
What's Happening on Days of Our Lives
We'll just leave this steamy pic. of Rob Wilson right here. #DAYS

📷: @MrRobertScott pic.twitter.com/57G3hRwLZU

— Days of our Lives (@nbcdays) March 20, 2019
You are very welcome for this one.
What's Next on Days of Our Lives
The single ladies of Salem are thirsty this spring. #DAYS pic.twitter.com/LlUWXfk6Is

— Days of our Lives (@nbcdays) March 15, 2019
JJ is going to do what he feels is the right thing and the only thing in the moment. He has feelings for Haley, obviously, but he feels that his own father is causing her some serious problems in her life as he is using her to further his own political agenda – and that means having her deported because of her immigration status. And he has to do the right thing in his own mind, which is correct the wrongs his father is making by making sure that he is able to get things together – and by making sure that he can marry Haley to save her from being removed from her life in Salem. He's going to offer, but we have to wonder what she will say about that? Will she agree to it and be his wife so that she can stay, or will she go about her own life and let this happen so that she's not compromising her integrity in any way?
We aren't sure where she is going with this, but we know that he will do all he can to make this right. W also know that there is a rumor that there will continue to be a Stefan even though Tyler Christopher is making his big exit. He's not going to stick around and play the role, but soap alum Brandon Barash is going to do the job for him. He's showing up to take over the role so they can keep it going for now. Fans like Stefan – for whatever reason – so keeping him is a thing.
Stay tuned for more Days of Our Lives and be sure to check out TVOvermind daily for the latest Days of Our Lives spoilers, news, and updates.