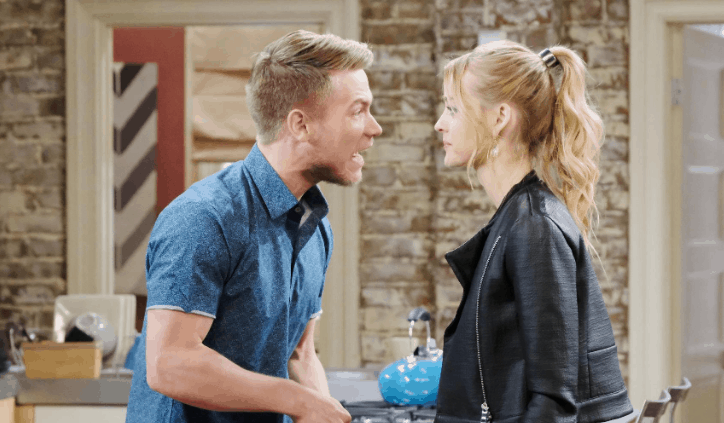 Days of Our Lives fans know this past week has been one that has shocked so many people. From the things that happened personally in the lives of those who matter the most to the lives of those who are in the public eye, everyone has been shocked and disappointed by so many things this week. For one, we have to sit back and announce that we are just shocked and appalled and beside ourselves that there is such a thing going on with so many people. For one, we are not entirely pleased with the many things going on with Jack. He's making horrible decisions now that he is the mayor, and we cannot figure out where his game is going. Where is he looking to take things, and what is his end game? Where does he want to be, and what does he want to accomplish? Other than what Eve tells him to accomplish, of course.
Add to that the horror we are facing watching Maggie fall apart at the seams, and we just cannot handle things any longer. There is so much going on that we cannot take, and we are just sitting here wondering how to make things work in our favor. How does this situation get better? What do we do when things seem to be turned upside down? How do we face this situation without falling apart? What can happen now that she is drinking? Will Lani remember where her place is, and will she let this baby have his life without her dictating it? Will Rafe figure things out in his own life, and what about Hope? She seems completely indifferent to all that is going on in her personal life, and we don't get it. There's so much we cannot figure out, and it's driving us crazy.
What's Happening on Days of Our Lives
Time to turn in your badge. #DAYS pic.twitter.com/HeIzq2kjDl

— Days of our Lives (@nbcdays) May 20, 2019
We are not sure she even cares.
What's Next on Days of Our Lives
Take a deep dive behind #DAYS with stars @DeidreHall, Drake Hogestyn and @KristianAlfonso – TONIGHT on @enews at 7pm ET/8pm PT. pic.twitter.com/knzdkk8dMb

— Days of our Lives (@nbcdays) May 23, 2019
It's a holiday, and we certainly hope that you are doing everything in your power to enjoy that. We hope that you are spending the day on the water, with your friends, doing fun things and ringing in the beginning of the summer holiday – unofficially – as you give thanks to this great nation and mourn those who lost their lives serving this country to ensure you get to celebrate this day. Sadly, Days will not air today as there is too much else going on in the world of daytime television to mark a new show, but you will get to see the drama begin to unfold again tomorrow. Will Rafe make a decision? Will Hope change her attitude? Will Marlena and John have any luck with their lives and the diary they are looking for?
Will Ben and Ciara figure out a good way to live their lives in a good place while the rest of the world looks on and simply hopes that they fail? Will we get to see anything that even resembles anything happy or healthy going on? Will we get to see anyone make a wise decision or choose to do things the right way? Will this week bring us the answers we have been looking for? Will Eve find some peace in her own life, and will Nicole come to her senses? What will happen when everyone else gets a chance to do things their own way? We can't decide, but it will happen this week as we see more unfold.
Stay tuned for more Days of Our Lives and be sure to check out TVOvermind daily for the latest Days of Our Lives spoilers, news, and updates.