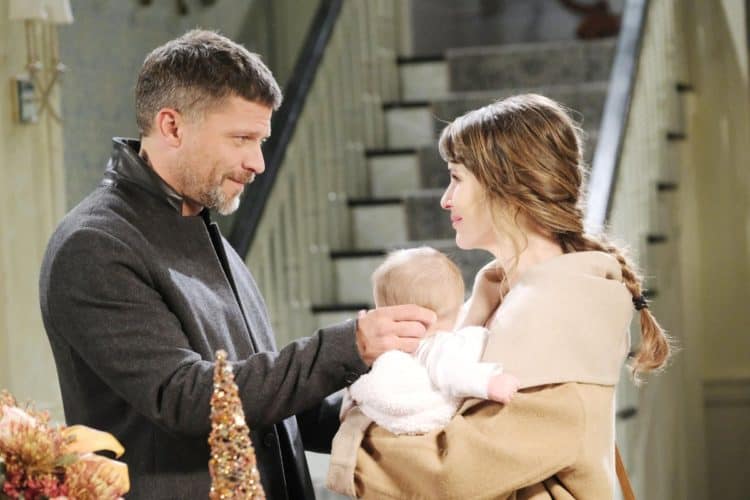 Days of Our Lives fans are sure that Kate is going to continue to lose her mind over Sonny and his actions with Evan. She is not supporting any of this in the least, and she's going to not only make sure he knows this, but we suspect she is going to go out of her way to make sure this does not happen again. We know her. We know her type. We know what she does and how she is and what she likes, and we know that she is not about to let this ruin any plans she has for the future, which means she is about to put herself right into the middle of all of it and move on with all the things that are happening. She's a mess, but she's right about this if we have to choose sides. We want a Will and Sonny reunion when he's out of prison.
Nicole is doing things that might not make her very popular. She heard about Mickey's cancer, and she went out of her way to try and comfort Eric. He might not be happy with her for lying about the baby with Sarah all these months, but she still loves him and wants to be with him. This is not something that is going over well with him at all, and she's crushed. He is worried about the baby, and he and Sarah have to go and find a way to deal with this. They have to talk to the doctors. They have to come up with a treatment plan. They have to make things right with this baby and her life, and they have to spend their time focusing on what is important, and right now, Nicole is really just not important to him.
What's Happening on Days of Our Lives
In the latest #DAYS, Abigail brings Jennifer back to the scene of the crime to jog her memory.https://t.co/ZsCmioRrzb pic.twitter.com/TCyGSAgfs2

— Days of our Lives (@nbcdays) December 10, 2019
Will it work?
What's Next on Days of Our Lives
Eli discovers Lani is a nun, while JJ goes after Kristen. Watch #DAYS, weekdays on @NBC. pic.twitter.com/i73wZEinte

— Days of our Lives (@nbcdays) December 7, 2019
Hope is feeling the pressure that's surrounding her now that there are a few people who seem to feel that she is not who she says she is. She's finally starting to feel that people know she might not be Hope so much as she is Princess Gina, and she's not looking to continue that situation in her life. She is more of the looking for things to go her way another way kind of gal, and she's not having any of this in her life. She wants things to go her way, which means she needs to get out of town, and she knows it. She's working hard to get her life together, but she is also working hard to get out of Salem before someone finds out who she is and what she is looking for. Will she?
Chad is happy to help his wife look into what happened to her mother to see what really went down. She's so convinced it was not Eve who did this, and she is not sure that she is going to have much else to say about that. But, we do know that there is always a bit more we can see for ourselves. Xander is going to realize that there is something going on with Ciara, and he will do anything the can to figure that out. Jack is happy to bring Jennifer home from the hospital, and there is some romance in the air if we are not mistaken. Those two need it, and we can be sure of that.
Stay tuned for more Days of Our Lives and be sure to check out TVOvermind daily for the latest Days of Our Lives spoilers, news, and updates.