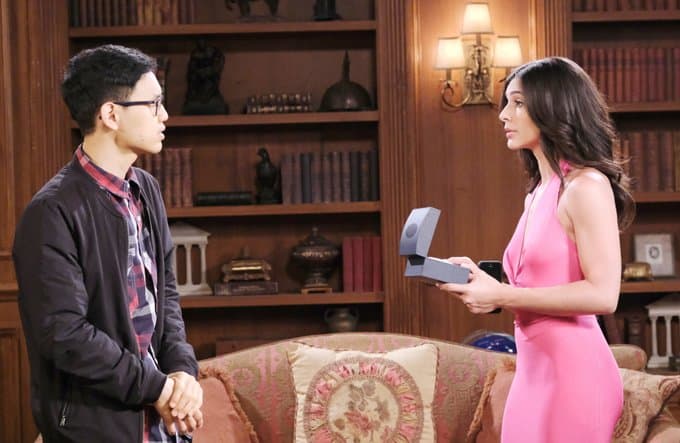 Days of Our Lives fans were shocked and horrified when we got the bad news yesterday. We knew that it was coming, of course, but not one of us was prepared for the sadness that Jennifer would feel when she got that call. The call that Bill Horton has passed was sad for her, and it was something we simply don't think that she has the ability to process right this second. She's been through so much in such a short period of time, and she's not been herself lately. She only just remembered that it was her close friend Hope who pushed her off a balcony — though we all know this is not the woman she thinks she is — and it's been a very traumatic week for Jennifer. We only hope that this news doesn't further destroy her in some capacity. She's good and we love her, and we think she needs a break.
Rafe had to do something he didn't think he would ever have to do. He had to walk in ad put handcuffs around the hands of his sister and arrest her for the horrible things she did, and she's not happy about it, either. It's been one heck of a wedding what with the arrest and the admission she made in the middle of her vows and all the things that just don't work out for her right now. She's a mess, and we get it. But, he is not happy to have to arrest his own sister. Lani tried to explain to Eli what happened, but we aren't sure that he's in a place where he believes this didn't come from a place of selfishness. We don't know, to be quite honest. It's all surprising and shocking to all of us this happened today.
What's Happening on Days of Our Lives
In the latest #DAYS, Gabi meets with her man from Visionary Bionics and Chad and Abigail hear the conversation. https://t.co/ZsCmiozQaB pic.twitter.com/8nqj2ypzwZ

— Days of our Lives (@nbcdays) February 15, 2020
You never know who is listening.
What's Next on Days of Our Lives
While Ciara harbors a fugitive, Lani takes aim at Gabi – and she's not going down without a fight. Watch #DAYS, weekdays on @NBC. pic.twitter.com/JkIKPQt0r5

— Days of our Lives (@nbcdays) February 16, 2020
There's a lot going on right now, but we are going to find that this is a day when Marlena and John get to have a romantic time to themselves to celebrate their own Valentine's Day. They get to be together. They get to love one another, and they get to be in their happy place. Hattie and Roman are in the same moment, too, as they share something sweet between them that most people didn't see coming. This might shock everyone, but we really did hope to see Roman with Kate at some point. They make us happy when they are together, and the fact that they aren't is something we are just a bit disappointed in right now. Then, there is Kayla, who is shocked when fake Steve reveals something to her, and we don't think it has anything to do with his real identity.
Then there's Rafe and Justin, and they need to find Kayla. They don't know where she is, but they know that she is very likely in some form of danger and they are doing all they can to figure this out and to help her out in their own way. There is a lot happening here, but we don't know that it's good news at all. Will they find her before it's too late, or will things only continue to get worse for all of them as this situation is growing more dire by the moment? We just don't know how this one will go.
Stay tuned for more Days of Our Lives and be sure to check out TVOvermind daily for the latest Days of Our Lives spoilers, news, and updates.