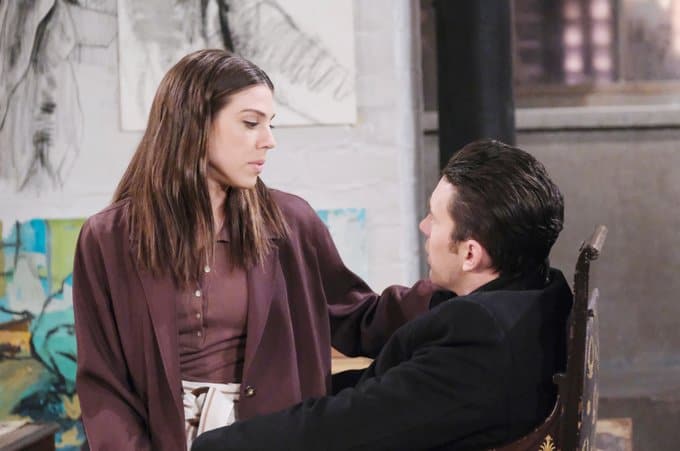 Days of Our Lives fans knew that the week would be something of a mess with everything that is going on right now. Wedding day was yesterday, and things did not go according to plan for so many people in Salem. It was a bit of a mess, to be quite honest, and we don't have a clue how to fix that. Gabi had to come out and share something rather big and bold with everyone in her life, and that did not go well for her on her wedding day. Her admission was a shocking one to so many people who know and love her, and it's a mess for everyone involved. Though, Lani did make it her mission in life to show up and try to ruin this wedding. She just could not sit back and allow this to happen knowing that so many things about it were just so wrong. She did what she had to do.
Then there was Valerie, who showed up to watch her son get married to Gabi, though we don't think that she thought it would be such a dramatic situation for everyone involved. She did have a big moment when things were more of a mess than she realized, and we could not even imagine. Sonny and Will both go back in time and think about all of their past days together celebrating Valentine's Day with so much love and happiness. They are not with one another when they go back in time and think of these days, but we can see that they are both on the same page in their way of thinking, which is something we do love and appreciate and want to see more of. They need to be together, and we all know this.
What's Happening on Days of Our Lives
Happy #ValentinesDay! There's always love brewing in Salem. #DAYS pic.twitter.com/8XzQ0ZgAdY

— Days of our Lives (@nbcdays) February 14, 2020
We are still celebrating the love.
What's Next on Days of Our Lives
While Ciara harbors a fugitive, Lani takes aim at Gabi – and she's not going down without a fight. Watch #DAYS, weekdays on @NBC. pic.twitter.com/JkIKPQt0r5

— Days of our Lives (@nbcdays) February 16, 2020
Today marks a sad day in the lives of so many people in Salem. Jennifer is going to receive a phone call that will leave her shaken and feeling as if she has some big problems. She's going to find that she's got a lot more on her mind than she's dealing with right now, but she's also in the middle of getting things together in her own life. She's got a lot on her mind, but getting the call that Bill Horton has passed away is going to be a sad moment. She is going to feel this loss heavily, and it's going to mean a lot to so many people in her life and in her family. Doug is one of the people who will feel this a lot. He will spend a great deal of his time focusing on his own time here in Salem with his 50 years, and we will see a lot of that because of his actual 50th anniversary – and Bill will be in many of his memories.
Rafe is going to make an arrest, and it will end up being him arresting the bride; his sister if you need some updating. He has to take Gabi to jail after evidence comes forward about all she's been up to and doing in the past, and things will get so ugly from here. To have to arrest his own sister is a lot for him, but it's going to also be a lot for Lani, who has to tell Eli why she did what she did and try to explain herself.
Stay tuned for more Days of Our Lives and be sure to check out TVOvermind daily for the latest Days of Our Lives spoilers, news, and updates.