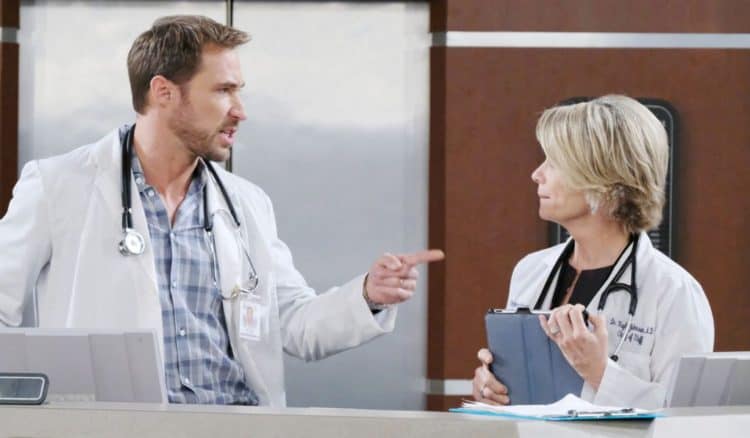 Days of Our Lives fans are big fans of so many things happening right now, and we cannot wait to see how some of these stories unfold. For one, we saw that Xander did not kill Ted. He is actually friendly with the man — shocking considering the two are so much alike — and he's lying about killing Ted to Kristin/Nicole. And that's a problem. Kate, on the other hand, knows that he is alive and well and that all is fine. She and Ted have found themselves in a compromising situation, and neither of them seems all that upset about it. In fact, they rather seem to like that this is going the way that it is going, and we cannot figure out who this one will work for them. They have to get their lives together, but we are not sure they can do that without making it a bigger mess, first.
We also know that Ciara is in trouble. She might have gotten Claire caught so that her family can get her the help she needed, but we suspect that there are a more than a few people who are unhappy with the way that she and Tripp handled this situation. Belle and Shawn are furious that their family allowed any of this to happen, and their guilt is not a happy thing right now. They also feel that they can do something to help her, but we aren't sure that she can be helped at this point. We so, however, suspect that Ben feels for her. He is no stranger to mental illness, and he recognizes what she is going through. He and Marlena might be able to help her with something, and that might lead them to become friends; and we all know that friendship won't make others happy.
What's Happening on Days of Our Lives
https://twitter.com/KimNYC84/status/1147174762382331905?ref_src=twsrc%5Etfw
We love this.
What's Next on Days of Our Lives
This year, the big fireworks are in daytime. Watch #DAYS, weekdays on @NBC. pic.twitter.com/nMcPY6UIyk

— Days of our Lives (@nbcdays) June 28, 2019
The new week is going to bring some very exciting stuff, but we know that it's going to bring us a little shock from fake Nicole. You see, she ordered Xander to kill Ted. He was all set to do it, but then they became friendly, and Xander decided not to do it. Instead, he planned on figuring a few things out by keeping Ted alive and hidden in a secret room, in which he was discovered by Kate, and now they are in there together. We also saw them share a kiss, and that is just the beginning of what we feel that they might share in that room. But, in the meantime, they feel they are safe and good to go. Of course, fake Nicole is going to discover them today. She's not going to be happy about this, either. Xander is not someone who dares to defy her, and she's about to lose her mind.
Then there is Rex. He has something to say, and he has to say it to Sarah. He is going to make sure he can confess what he is thinking to her, but we don't know that he is going to be very happy about it. He's got some big time situations going on in his life right now, and his confession probably won't make him feel very happy about things. We don't know what it is, but we can probably expect to see him unhappy about it. But, probably not nearly as unhappy as she will be about it. That's a big change for them.
Stay tuned for more Days of Our Lives and be sure to check out TVOvermind daily for the latest Days of Our Lives spoilers, news, and updates.