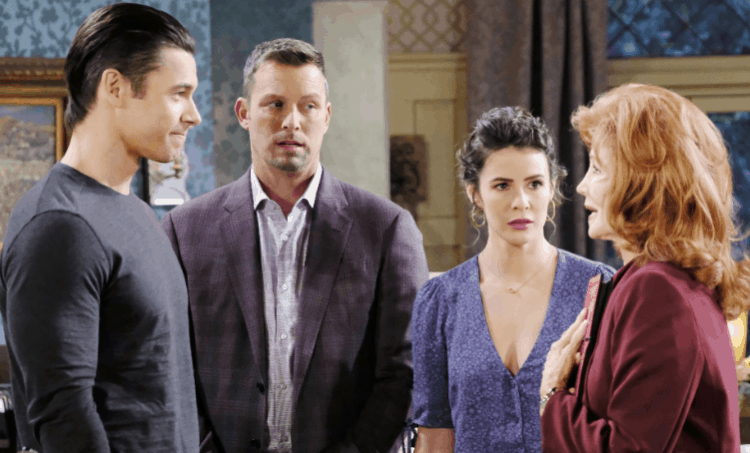 Days of Our Lives fans are not all that excited about the beginning of the week as far as Stefan is concerned. He is a man who is constantly on our last nerve, and we wish there was something we could do to make people see that. What he is up to with Gabi makes us feel a little bit gross, but they do seem to be enjoying themselves. We feel bad for Chloe, though. She seemed to have higher standards for him, but we aren't sure she was right to have those. For the moment, though, we can see things working out with them. The beginning of the week has been an interesting one already though. We did get to see that there was a small situation with Will and Sonny as they were able to get remarried. They were happy enough to do it, and we are all happy that they had this chance.
Meanwhile, Maggie was not hesitant to ask Xander why he lied to her, what is going on, and what he is thinking with his actions. He's looking to get Sarah to fall for him, but she will never if he doesn't get it together, shape up, and make a change in his own life. He's not in the kind of place he needs to be to make things work in his own favor. She's not into that. Meanwhile, we know that Nicole-but-really-Kristin, had to hide Ted from Stefan and Abe. She cannot have them in the middle of her personal issues when she's working so diligently to lie to all of them and make them all miserable as ever. But, that's her own personal business. We are staying right out of that situation as best we can. There's not much we can do to salvage that.
What's Happening on Days of Our Lives
34 years of this guy! How lucky are we? Happy Anniversary to my friend, my partner, my TV husband too many times over. I'm beyond grateful to get to spend my #Days with you, @officialnichols! @nbcdays pic.twitter.com/kjMrMSvEjY

— Mary Beth Evans (@marybeth_evans1) June 14, 2019
We are so happy to have him back.
What's Next on Days of Our Lives
Kayla invites you to a wake honoring her late mother, Caroline Brady. Watch #DAYS, weekdays on NBC. pic.twitter.com/dFrIBjH4IS

— Days of our Lives (@nbcdays) June 14, 2019
Ciara has some information that might just shock the world, and she is about to share it with Tripp. He has not been in a good place with Claire lately, and it's all because she's been in the middle of a total breakdown. She's not herself. Things are not working out for her, and things are not working out for him as a result of her own issues. She's been a wreck, and we get that. She's got more on her plate than we can handle, and that is not a good thing. We do, however, feel that there might be a good chance that things work out now that Ciara is about to share her situation with him. She's going to share the truth, and he might not like what he hears. She will tell him that it was Claire. She is the one who set the fires. She is the one who has been making everyone miserable.
Lucas and Sami are also coming home today. They are not in a good place, though. They are home to watch their son fight for his life. He was able to get remarried to the love of his life this week, but he's dying. If they cannot find the diary with the information in it to save his life and get the stuff they need, he will die. And we think that it's a good thing Sami is coming home, because she's a woman who will do anything to get what she needs. And she needs her son to live.
Stay tuned for more Days of Our Lives and be sure to check out TVOvermind daily for the latest Days of Our Lives spoilers, news, and updates.