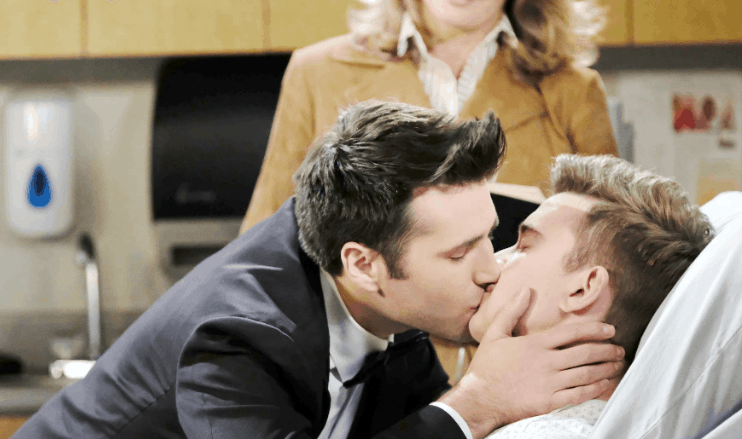 Days of Our Lives fans are sure that Sami and Lucas will fall apart if their son dies again. They already lost him, buried him, and said their goodbyes to him one time, and they cannot do this again. Even if he doesn't really come back this time, they just cannot do it. They are so hopeful that Rex and Sarah and the antidote they are working on will help their son live, but they are not nearly as hopeful as their son-in-law, Sonny. He only just got his husband back, and they just got remarried. They've been through so much in the past year, and it was time for them to be together. They are worth it, and they are making the most of their time, but can they find the solution to his health issues before it is too late, or will someone else lose a loved one?
Everyone is concerned for Nicole. She's not herself, and everyone can see it. Even Kate and Gabi are worried about her, and they seem to think that she is so far from herself that it doesn't make sense. Of course, she was presumed dead in a fire when she was really being held hostage by a man who forced her to marry him so he could make everyone else miserable, and now she is back. She came back just in time to see her daughter die, and that is something that would mess anyone up. Of course, they have no clue she is not Nicole. It's Kristen with an elaborate mask on that makes her look like Nicole, and that does explain a few of her major personality changes. Nicole went through a lot, but they don't think she should have changed this much. They're right, of course; she didn't change this much.
What's Happening on Days of Our Lives
From the moment we first shared a scene together, this man @JreynoldsJames felt like a long lost family member I'd just reunited with. Such a pleasure to share the screen with you. #wise #man #wisdom #sage pic.twitter.com/WeQPuoKST6

— Brandon Barash (@BrandonBarash) June 17, 2019
What a fun photo!
What's Next on Days of Our Lives
Kayla invites you to a wake honoring her late mother, Caroline Brady. Watch #DAYS, weekdays on NBC. pic.twitter.com/dFrIBjH4IS

— Days of our Lives (@nbcdays) June 14, 2019
We now know what kind of news is going to come to Kayla, and it's the fact that Caroline Brady has passed. It's horrible news for all of them, but we think that it will bring to them some peace, some information, and it might just bring more people together. She has the news, and she must now share that news with Victor. She has to let him know that things are further falling apart in his life, and that there is nothing he can do about it. There is nothing that they can do together to make sure this doesn't happen to them, and we get it. We get that they have some problems. We get that they have some issues. We get that they are the kind of people who are making changes.
But, what happens when Sami has to tell Will about Caroline's death? She's facing the death of her own son, and she has to share this news with him. He will be sad, to say the least. He is not prepared for the many things happening in his life to him at the moment. He is a man who is horrified, upset, and not very happy about many things, but there is little we can do to make him feel much better about the way things are going. There's so little we can do to make positive changes for him, but he has to face this news and his potential future with as much strength as he can muster. Will he make it through?
Stay tuned for more Days of Our Lives and be sure to check out TVOvermind daily for the latest Days of Our Lives spoilers, news, and updates.