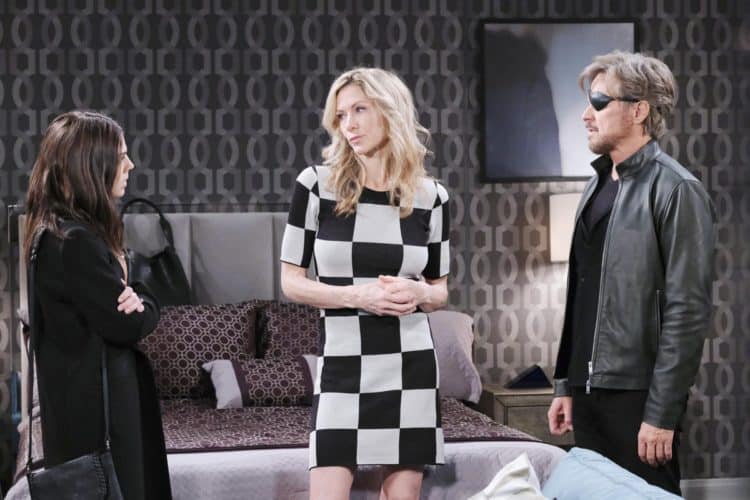 Days of Our Lives fans are worried for JJ. Not only does he have this whole addiction problem in his life right now, he's also working very hard to make sure that Gabi is not going to get another thing good in her life. He has watched his former friend take down his sister and his brother-in-law, his friends, his former love, Lani, and even his former friend, Eli. He's done and tired of it, and he's not going to allow another minute of this, and he's doing that by trying to disable the app that works her pacemaker. We don't know if he's trying to kill her or if he's just got a short-term plan that will mean something else to him entirely, but we are worried for all that this means for so many people. She could die, and he will be caught. This is not a good look for him.
Lani, on the other hand, is just as desperate to find out how to change her own life. She's so desperate that she has found a way to make things work in her own life that include allowing herself to actually ask Kristin for some help. This will never work for her, and they will never be a good match. Kayla and Rafe have come together, though, and they are sharing their thoughts. They both think that there is something fundamentally wrong with Hope, and they are both right. We are just sitting here very impatiently waiting on one of them to finally put it all together. It's taken so long already, and it's disheartening how much of what they are doing is not being realized just yet. Get it together, you two. We need you to work harder to figure out that she is not Hope at all.
What's Happening on Days of Our Lives
While 2020 is underway #Days stars @camilabanus @LamonArchey @SalStowers reveal their hopes for #Gabi #Eli and #Lani in the new year. Check it out on the #DOOLapphttps://t.co/wkB3lOZCPt

— Days of our Lives (@daysofourlives) January 11, 2020
Could it happen?
What's Next on Days of Our Lives
It's a week of shocking rebounds and returns in Salem when Eli proposes to Gabi, and Adrienne returns! Watch #DAYS, weekdays on @NBC. pic.twitter.com/wWBgR00bfi

— Days of our Lives (@nbcdays) January 11, 2020
Sonny is doing all the things that just don't work for us right now. He's going to see Will, his beloved husband, in jail. He's going to see him only because he wants Will to sign divorce papers and let him be a free man. He's not willing to be married to a man who is in prison any longer, and we are not shocked. He's been making out with a new man for a while now, and Will is in the dark about all of it. Even Kate is not happy with Sonny, and Kate is one of the most deceptive people on the planet, so that should tell you a bit of something about all that is happening and going on here. It's all too much, and we just can't see where this is headed, if you're looking for some brutal honesty. Eric and Sarah are also going to get some more bad news about their daughter today, and we cannot handle that. It is too much for us.
Then there is Xander, who is doing all he can to find out what it is Ciara is planning on doing in her life now that she knows. She knows what he and Victor have been up to all this time, and she's got some choices and decisions to make. We don't know which way she's going to go with this one, but we suspect it's going to be a thing for her. And, it might be a thing that gets her into some pretty big and pretty impressive trouble over time.
Stay tuned for more Days of Our Lives and be sure to check out TVOvermind daily for the latest Days of Our Lives spoilers, news, and updates.